The Wonders of Thedas is a shop in the Denerim Market District, specializing in magical and exotic items.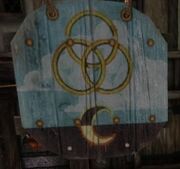 Background
Edit
A shop with quite the reputation, proven by the fact that even Alistair knows about it. However Zevran doesn't, thinking (or maybe hoping) that it's a whorehouse.

Crime Wave

Notice of Termination

False Witness
Characters
Edit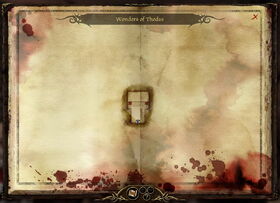 When on the quest False Witness.
Companion remarks
Edit
While walking in the upper part of the room:
Notable items
Edit
Notable gifts for companions:

Ancient Map of the Imperium
Ancient Map of the Imperium
---
Gift


An antique, wine-stained map showing the boundaries of the ancient Tevinter Imperium.



.

Remarkable Garnet
Remarkable Garnet
---
Gift


A gem the shade of dried blood, dark red, nearly black.



.
Codex entries
Edit
Codex entry: Denerim
Codex entry: Geography of Thedas
Codex entry: The Qunari (Origins)
Codex entry: The Aeonar
Codex entry: The History of the Chantry: Chapter 4
Community content is available under
CC-BY-SA
unless otherwise noted.