"Even the tomes of Halamshiral are open to us. I wonder if I have secured a ledger or two of interest."

Willvan is a merchant in Dragon Age: Inquisition, his stall can be found in Val Royeaux.
Background
This merchant sells Codex entries and tonic recipes in the Summer Bazaar. The stall is located in the southeast courtyard of the Summer Bazaar in the same store front as the Val Royeaux Schematics Merchant. Head past the Le Masque du Lion Cafe, up the stairway leading into the courtyard, the stall can be found in the shop at the end of the courtyard on the left. The merchants wares are unlocked after the Inquisition relocates to Skyhold.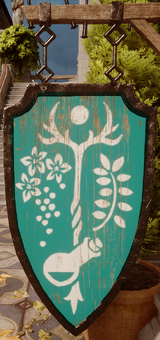 Additionally, Willvan sells codex entries that can no longer be acquired due to specific locations being inaccessible; including entries that were mutually exclusive with the Inquisitor's choice of quest location, these include:
Note: Not all codex entries are available for purchase at the same time. Only specific codex entries that were missed in an area that is no longer accessible will be available for purchase after the related quest has been completed.
Codex
Each of the following codex entries can be purchased for
17

:
Recipes
Quotes
"The world reels in wonder of your achievements. I hope there is something I can provide you."
Community content is available under
CC-BY-SA
unless otherwise noted.