Wilhelm's Cellar is the surprisingly expansive basement of Wilhelm Sulzbacher's home in the village of Honnleath.
Background
[
]
The mage Wilhelm Sulzbacher used this cellar as his laboratory, conducting experiments with Shale and demons, with some brewing on the side.
Involvement
[
]
When the village is overrun by
darkspawn
during the
Fifth Blight
, Wilhelm's son
Matthias
manages to maintain part of Wilhelm's magical defenses to keep surviving villagers safe from marauding darkspawn.
Quests
[
]

The Golem in Honnleath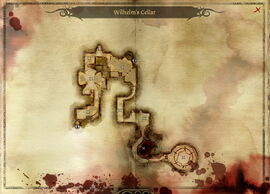 Characters
[
]
Enemies
[
]
Automatic encounters between the initial entrance and the laboratory are divided into six groups:
First: x3 Genlocks (with bows) and x2 Hurlocks
Second: x3 Genlocks (x2 with bows) and x2 Hurlocks (x1 with bow)
Third: x4 Genlocks, x5 Hurlocks (x3 with bows) and the Genlock emissary
Fourth: x4 Lesser shades and the Dust wraith
The last two groups appear while returning from the laboratory to Matthias:
Fifth: x2 Lesser shades
Sixth: x4 Lesser shades
If a battle takes place in the laboratory it will involve:
x4 Lesser rage demons and Kitty
Notable items
[
]
Ingredients
[
]

Deathroot

Elfroot
Equipment
[
]
Cord of Shattered Dreams dropped/given by Kitty

Harvest Festival Ring dropped by Dust Wraith

Helm of Honnleath dropped by Kitty

Wilhelm's Magus Staff, bribe from Kitty

Remarkable Greenstone

Wilhelm's Special Brew
Codex entries
[
]

Codex entry: A Decades-Old Letter

Codex entry: The Journal of Enchanter Wilhelm
See also
[
]

Wilhelm's Cottage