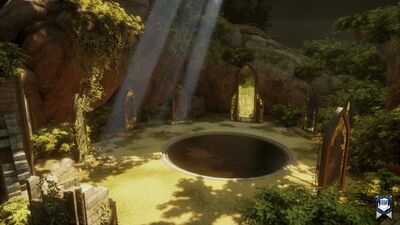 The Well of Sorrows, or vir'abelasan, is an ancient nexus of ley energies located within the Temple of Mythal.
Background
Edit
Involvement
Edit
A magister who studied the Fade claimed that as he walked its paths, spirits showed him "vast oceans, containing not water, but memories, drawn from the minds of dreamers."[2] A revered mother speculated that the Fade began as an "ocean of dreams" and "was reduced to a well — bottomless but limited in scope" after creation of the Veil.[3]
Codex entries
Edit

Codex entry: Old Elven Writing
References
Edit
Community content is available under
CC-BY-SA
unless otherwise noted.