(44 intermediate revisions by 2 users not shown)
Line 1:
Line 1:
 

[[File:Dragon Age- Inquisition map.png|thumb|center|600px|War Map]]

 

[[File:Dragon Age- Inquisition map.png|thumb|center|600px|War Map]]

 
+
⚫

In ''[[Dragon Age: Inquisition]]'', the '''war table''' is used to send [[Companions and advisors (Inquisition)|advisors]] and their forces to complete various operations in order to unlock locations, receive rewards, gain influence and/or progress the story. There are two types of operations – mission operations and scouting operations.

 
 
+

{{TOC right}}

 
+
 
+

{{See also|War table (repeatable)|War table (DLC)}}

 
+
 
⚫

In ''[[Dragon Age: Inquisition]]'', the '''war table''' is used to send [[Companions and advisors (Inquisition)|advisors]] and their forces to complete various operations in order to unlock locations, receive rewards, gain influence and/or progress the story. There are two types of operations – mission operations and scouting operations.

 
 
 

Mission operations take time to complete and generally gain the Inquisition rewards and/or influence. The rewards and overall completion time may change depending on the advisor deployed.

 

Mission operations take time to complete and generally gain the Inquisition rewards and/or influence. The rewards and overall completion time may change depending on the advisor deployed.

Line 12:
Line 17:
 

While at the table, the advisors will engage in [[War table/Dialogue|dialogue]] with each other.

 

While at the table, the advisors will engage in [[War table/Dialogue|dialogue]] with each other.

 
 
 
+

The rewards for some war table operations differ, depending on whether the [[Downloadable content (Inquisition)|downloadable content]] ''[[Trespasser]]'' and [[Patches (Inquisition)#Patch 10 (Sep 2, 2015)|patch 10]] are installed or not.

⚫
 
 
+
 
⚫
 
 
 

== Haven ==

 

== Haven ==

 
⚫
−

Unless otherwise indicated, all war table operations obtained in [[Haven]] will still be available when the Inquisitor reaches [[Skyhold]].

+

Unless otherwise indicated, all war table operations obtained in [[Haven]] will still be available when the Inquisitor reaches [[Skyhold]].

−
 
 
⚫
−

{{Note|The rewards for some war table operations have been changed due to [[Patches (Inquisition)|Patch 10]] and the [[Trespasser]] [[Downloadable content (Inquisition)|DLC]].}}

 
−
 
⚫
 
⚫
 
 
 
 

=== Ferelden ===

 

=== Ferelden ===

−
 
 

==== Inquisitor's Path ====

 

==== Inquisitor's Path ====

 

{| class="sortable daotable" width="100%"

 

{| class="sortable daotable" width="100%"

Line 65:
Line 68:
 

{{:The Teyrn of Highever |style=operationtableinquisition}}

 

{{:The Teyrn of Highever |style=operationtableinquisition}}

 

{{:Build Watchtowers |style=operationtableinquisition}}

 

{{:Build Watchtowers |style=operationtableinquisition}}

⚫
 
⚫
 
−

{{:The Light-Torn Steed |style=operationtableinquisition}}

 
−

{{:Flames of the Inquisition Charger |style=operationtableinquisition}}

 
 

{{:Locate Weapon of Tyrdda Bright-Axe |style=operationtableinquisition}}

 

{{:Locate Weapon of Tyrdda Bright-Axe |style=operationtableinquisition}}

 

{{:Secure a Route through the Frostbacks|style=operationtableinquisition}}

 

{{:Secure a Route through the Frostbacks|style=operationtableinquisition}}

Line 85:
Line 84:
 

{{:Secure More Lyrium for the Templars |style=operationtableinquisition}}

 

{{:Secure More Lyrium for the Templars |style=operationtableinquisition}}

 

{{:The Big One? |style=operationtableinquisition}}

 

{{:The Big One? |style=operationtableinquisition}}

−

{{:Gather Coin (Haven) |style=operationtableinquisition}}

 
 

|}

 

|}

 
 
Line 138:
Line 136:
 
 
 

== Skyhold ==

 

== Skyhold ==

 
⚫
 

Many operations become available after the Inquisition relocates to [[Skyhold]]. Many operations may require that the Inquisitor speak extensively to party members at various times to unlock them.

 

Many operations become available after the Inquisition relocates to [[Skyhold]]. Many operations may require that the Inquisitor speak extensively to party members at various times to unlock them.

 
+

{{Clr}}

−
 
−

{{Note|The rewards for some war table operations have been changed due to [[Patches (Inquisition)|Patch 10]] and the [[Trespasser]] [[Downloadable content (Inquisition)|DLC]].}}

 
−
 
−
 
⚫
 
 
 
 

=== Ferelden ===

 

=== Ferelden ===

Line 278:
Line 273:
 

{{:Pursuit Through the Mountains |style=operationtableinquisition}}

 

{{:Pursuit Through the Mountains |style=operationtableinquisition}}

 

{{:Thanks From a Chantry Sister |style=operationtableinquisition}}

 

{{:Thanks From a Chantry Sister |style=operationtableinquisition}}

−

{{:Crestwood Resources |style=operationtableinquisition}}

 
−

{{:Fallow Mire Resources |style=operationtableinquisition}}

 
−

{{:Hinterland Resources |style=operationtableinquisition}}

 
−

{{:Gather Herbs |style=operationtableinquisition}}

 
−

{{:Gather Coin (Skyhold) |style=operationtableinquisition}}

 
 

|}

 

|}

 
 
Line 317:
Line 307:
 

{{:Investigate the Elven Glyphs |style=operationtableinquisition}}

 

{{:Investigate the Elven Glyphs |style=operationtableinquisition}}

 

{{:Investigate Elven Ruins |style=operationtableinquisition}}

 

{{:Investigate Elven Ruins |style=operationtableinquisition}}

−

{{:Repair Point Agur |style=operationtableinquisition}}

+

{{:Repair Agur |style=operationtableinquisition}}

 

{{:Restore Judicael's Crossing |style=operationtableinquisition}}

 

{{:Restore Judicael's Crossing |style=operationtableinquisition}}

 

{{:Rumors of the Sulevin Blade |style=operationtableinquisition}}

 

{{:Rumors of the Sulevin Blade |style=operationtableinquisition}}

Line 421:
Line 411:
 

{{:Track Spies in Vyrantium |style=operationtableinquisition}}

 

{{:Track Spies in Vyrantium |style=operationtableinquisition}}

 

{{:Destroy Venatori Spy Network |style=operationtableinquisition}}

 

{{:Destroy Venatori Spy Network |style=operationtableinquisition}}

 
⚫
 

{{:Track Down Samson |style=operationtableinquisition}}

 

{{:Track Down Samson |style=operationtableinquisition}}

 

{{:Plant Crystal in Venatori Headquarters|style=operationtableinquisition}}

 

{{:Plant Crystal in Venatori Headquarters|style=operationtableinquisition}}

 

{{:Eyes of the Maker |style=operationtableinquisition}}

 

{{:Eyes of the Maker |style=operationtableinquisition}}

 
⚫
 

{{:A Gift from the Imperial Palace |style=operationtableinquisition}}

 

{{:A Gift from the Imperial Palace |style=operationtableinquisition}}

 

{{:Not So Bonny Sims |style=operationtableinquisition}}

 

{{:Not So Bonny Sims |style=operationtableinquisition}}

Line 443:
Line 435:
 

|}

 

|}

 
 
−

== The Descent DLC ==

+

== ==

 
+

{{Main|War table (repeatable)}}

−

{| class="sortable daotable" width="100%"

 
−

|-

 
−

! width="16%" | Title

 
−

! width="21%" | Prerequisites

 
−

! width="21%" | Connections

 
−

! width="21%" | Secrets

 
−

! width="21%" | Forces

 
−

{{:Disaster in the Deep Roads (operation) |style=operationtableinquisition}}

 
−

|}

 
 
 
−

== Trespasser DLC ==

+

== ==

 
+

{{Main|War table (DLC)}}

−

{| class="sortable daotable" width="100%"

 
−

|-

 
−

! width="16%" | Title

 
−

! width="21%" | Prerequisites

 
−

! width="21%" | Connections

 
−

! width="21%" | Secrets

 
−

! width="21%" | Forces

 
−

{{:Attend the Exalted Council |style=operationtableinquisition}}

 
−

|}

 
 
 
−

== Jaws of Hakkon DLC ==

+

== ==

 
+

* The actual war table has a map of Thedas carved into it, that is not including the [[Qunari]]-occupied lands.

−

=== Scouting ===

 
−

{| class="sortable daotable" width="100%"

 
−

|-

 
−

! width="16%" | Title

 
−

! width="21%" | Prerequisites

 
−

! width="21%" | Connections

 
−

! width="21%" | Secrets

 
−

! width="21%" | Forces

 
−

{{:Investigate Frostback Basin |style=operationtableinquisition}}

 
−

|}

 
 
 
−

=== Missions ===

+

== ==

 
⚫
−

{| class="sortable daotable" width="100%"

 
 
⚫

* {{|xbox360}} In some cases, the timer for the operations reset each time the console is turned off. This can be problematic when an operation takes a day or longer. the console on until the operations are finished, or use of the [[Exploits (Inquisition)#Quickly finish war table operations|timer exploit]] set the time and/or date forward.

−

|-

 
−

! width="16%" | Title

 
−

! width="21%" | Prerequisites

 
−

! width="21%" | Josephine

 
−

! width="21%" | Leliana

 
−

! width="21%" | Cullen

 
−

{{:Send Relics of Tyrdda Bright-Ax |style=operationtableinquisition}}

 
−

{{:Send Skywatcher to Stone-Bear Hold |style=operationtableinquisition}}

 
−

{{:An Appeal to the Shaperate |style=operationtableinquisition}}

 
−

{{:A Cultured Exchange |style=operationtableinquisition}}

 
−

{{:Too Grizzly To Bear |style=operationtableinquisition}}

 
−

{{:Assuage Ameridan's Heirs |style=operationtableinquisition}}

 
−

{{:A Conspiracy of Dunces |style=operationtableinquisition}}

 
−

|}

 
−
 
−

== Repeatable Missions ==

 
−

{| class="sortable daotable" width="100%"

 
−

|-

 
−

! width="16%" | Title

 
−

! width="21%" | Prerequisites

 
−

! width="21%" | Josephine

 
−

! width="21%" | Leliana

 
−

! width="21%" | Cullen

 
−

{{:Emerald Graves Resources |style=operationtableinquisition}}

 
−

{{:Emprise du Lion Resources |style=operationtableinquisition}}

 
−

{{:Exalted Plains Resources |style=operationtableinquisition}}

 
−

{{:Hissing Wastes Resources |style=operationtableinquisition}}

 
−

{{:Western Approach Resources |style=operationtableinquisition}}

 
−

{{:Gather Cloth |style=operationtableinquisition}}

 
−

{{:Gather Leather |style=operationtableinquisition}}

 
−

{{:Gather Metals |style=operationtableinquisition}}

 
−

|}

 
 
 
−

=== Bugs ===

+

== ==

 
+

<gallery widths="189" captionalign="center">

⚫

* {{

platforms

|xbox360}} In some cases, the timer for the operations

are

reset each time the console is turned off. This can be

very

problematic when an operation takes a day or longer.

One can either leave

the console on until the operations are finished, or

can make

use of the [[Exploits (Inquisition)#Quickly finish war table operations|timer exploit]]

, and

set the time and/or date forward.

 
 
+

War room.png|The War Room at Skyhold

⚫
 
 
+

Map of thedas war room.png|A map of Thedas carved into the table

⚫
 
 
+

Shard war table.png|A skull from the [[Ocularum]] lying on the war table

⚫
 
 
+

Wartable stump.png|A tree stump made into a chandelier

⚫
 
 
+

</gallery>

 
⚫
 
⚫
 
⚫
 

[[Category:Dragon Age: Inquisition objects]]

 

[[Category:Dragon Age: Inquisition objects]]
---
Revision as of 20:59, 12 September 2019
See also: War table (repeatable) and War table (DLC)
In Dragon Age: Inquisition, the war table is used to send advisors and their forces to complete various operations around Thedas in order to unlock locations, receive rewards, gain influence and/or progress the story. There are two types of operations – mission operations and scouting operations.
Mission operations take time to complete and generally gain the Inquisition rewards and/or influence. The rewards and overall completion time may change depending on the advisor deployed.
Mission timers run in real time, independently of the save file's time. Any save created after the mission is begun will count down the timer, even when the file is not the "active" file (i.e. The file loaded upon selecting 'Continue' on the title screen), and even when the system is powered off and unplugged. This allows operations that are otherwise quite long (18–24 hours long without agents) to be completed within a reasonable period of real world time.
To combat this, recruited agents lower completion times by 5% for the advisor to which they are assigned. Additionally, some operations have a preferred advisor who can complete the task 20% faster, however this doesn't always lead to an ideal result. The times presented here are without agents but with the preferred advisor time reduction taken into account.
Scouting operations are always completed instantly and cost power instead.
While at the table, the advisors will engage in dialogue with each other.
The rewards for some war table operations differ, depending on whether the downloadable content Trespasser and patch 10 are installed or not.
Note: Some of the operation titles may give away plot information!
Haven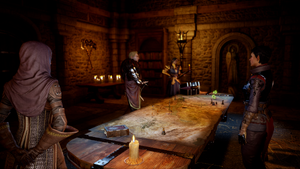 Unless otherwise indicated, all war table operations obtained in Haven will still be available when the Inquisitor reaches Skyhold. All operations started in Haven and in progress during In Your Heart Shall Burn will show as in progress or completed on the Skyhold war table depending on the elapsed time and the operation time.
Ferelden
Inquisitor's Path
Title
Prerequisites
Connections
Secrets
Forces
In Hushed Whispers
Recommended Levels: 4 to 7
Locked
Power Cost: 15
Time: Instant
Locked
Champions of the Just
Recommended Levels: 4 to 7
Power Cost: 15
Time: Instant
Locked
Locked
In Your Heart Shall Burn
Recommended Levels: 8 to 11
Locked
Locked
Power Cost: 1
Time: Instant
Scouting
Mission
Orlais
Inquisitor's Path
Scouting
Mission
Skyhold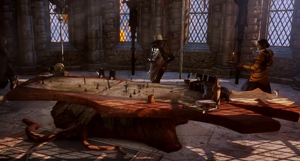 Many operations become available after the Inquisition relocates to Skyhold. Many operations may require that the Inquisitor speak extensively to party members at various times to unlock them.
Ferelden
Inquisitor's Path
Scouting
Mission
Orlais
Inquisitor's Path
Scouting
Mission
Repeatable operations
Main article: War table (repeatable)
DLCs
Main article: War table (DLC)
Trivia
The actual war table has a map of Thedas carved into it, that is not including the Qunari-occupied lands.
Bugs
At Skyhold, the banner behind Josephine is the same as Cullen's instead of her own.

xbox360

In some cases, the timer for the operations is reset each time the console is turned off. This can be problematic when an operation takes a day or longer. Possible workarounds include leaving the console on until the operations are finished, or making use of the timer exploit to set the time and/or date forward.
Gallery
Community content is available under
CC-BY-SA
unless otherwise noted.