The Villa Maurel is the estate of Lord Ramond Maurel, situated in the Emerald Graves in the Dales of Orlais. Due to the War of the Lions, Lord Maurel abandoned the Villa for the safety of Val Royeaux and now the Villa has been taken over by the Freemen of the Dales, deserters from the Imperial Army, and is currently serving as their headquarters.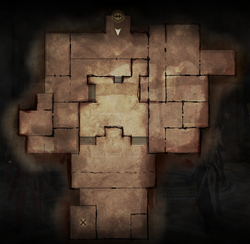 Involvement
Quests

A Corrupt General


Safe Keeping


A Vicious Thug


Victims of War

Notable items
Resources

Embrium
Embrium
---
Tier 2

Common

Herb


Crystal Grace
Crystal Grace
---
Tier 1

Rare

Herb

Codex entries

Codex entry: The Exalted March of the Dales


Codex entry: The Long Walk to Halamshiral (see bugs)


Codex entry: Maliphant's Journals


Codex entry: Scrap of Paper


Codex entry: Sexuality in Thedas
Notes

An Official Appraisal
Objects
Bugs
pc

The activation circle for Codex entry: The Long Walk to Halamshiral floats away from the book as you mouse over the book. To get the codex entry on a PC, stand close to the bookcase, highlight the book and press "interact" key on the keyboard (on default it's F).
Gallery
Community content is available under
CC-BY-SA
unless otherwise noted.