Veness is an apprentice mage of the Circle of Magi, who shows an early affinity for conjuration of fire spells. She is the mother of Gleam.
Background
Edit
Not much is known about Veness' past. Like other mages, it can be assumed she was brought to the Circle Tower at a young age and has lived there all her life. She is close friends with the apprentice Abernath.
Involvement
Edit
Veness meets the templar apprentice Sadatt while training in the Circle Tower. After a tense first meeting, the two later sleep together. Veness tells Abernath of the affair with the Templar, and he advises her to cut it off due to the potential consequence of Mage-Templar relationships. Sadatt oversees the two talking closely and mistakes the conversation for something more.
Eight months later, the Templars discover Veness is carrying a child and seek to find which apprentice had impregnated her. By conjuring a spell that would identify the father as he approached, when Sadatt approaches with Abernath, the spell is triggered.
Abernath tells Veness he will claim the child as his own and accept the consequences, but, after having spoken with Knight-Commander Greagoir, informs Veness that her child will be taken and turned over to the Chantry. Venness, not wanting her child to be taken from her, flees the Circle Tower and becomes an Apostate.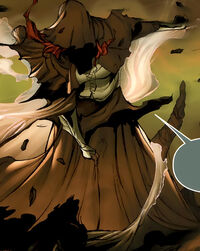 While in the woods away from the tower, Veness goes into labor and gives birth to a girl. As a traveling man in a cart approaches, she hands the baby to him and tells him to take her daughter, Gleam, far away. Shortly after giving up her daughter, she is tracked down by Sadatt, who, doing his duty as a Templar, ends her life.
Veness reappears 17 years later, when she approaches Gleam in the Fade. She tells her that in the Fade she is called Venom, but in life she was Veness, her mother, with powers like her own. She claims to have kept herself in the Fade so that she could watch over Gleam, and has chosen to show herself as a warning. A warning that Gleam must be cautious, as there's those that would seek to control her, to manipulate her powers – templars and worse. They are then interrupted when a rage demon attacks, and Veness forces Gleam to awake.
She later reappears in the final issue and acquaints Gleam with her father, Sadatt. She charges Sadatt with caring for Gleam as his duty as he is forced to keep her within the Circle Tower.
Community content is available under
CC-BY-SA
unless otherwise noted.