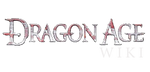 Hi, welcome to the Dragon Age Wiki! Thanks for your edit to the Talk:Wynne page.
I hope that you will stick around and continue to help us improve the wiki.
Please leave a message on my talk page if I can help with anything! -- Loleil (Talk) 22:34, 2010 January 15
Hey there! You made an addition on the Paragon page, but it isn't sourced. Could you please provide a source? Thanks!
06:29, November 30, 2014 (UTC)
I'll have to look through the game, but it's one of the codex entries found in the deep roads when going to seal the rift in Crestwood in DA:I. TheUnknown285 (talk) 06:38, November 30, 2014 (UTC)
Okay, I looked and couldn't find it. There must be a bug that's causing that codex entry not to be saved. I even went back to where I had found it to see if it would activate. Like I said, it's in a room to your left as you enter to Deep Roads under Crestwood to close the lake rift. If I remember correctly, it's just after you descend the spiral stairs. It's a dedication for the then new road connecting Orzammar and Guundar. The note is found in the same room as another codex entry (that DOES save) with a title like "Paragons of Lesser Known. TheUnknown285 (talk) 15:50, December 1, 2014 (UTC)
Community content is available under
CC-BY-SA
unless otherwise noted.