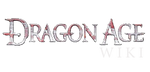 Hi, welcome to the Dragon Age Wiki! Thanks for your edit to the BioWare page.
I hope that you will stick around and continue to help us improve the wiki.
Please leave a message on my talk page if I can help with anything! -- Loleil (Talk) 12:00, 2010 March 14
DA2 Pics
Edit
I noticed that you just added a lot more DA2 pics to the wiki. I was wondering if you drew them (somehow) or if you got them off of a site somewhere.--TheGreyestWarden (talk) 21:57, January 10, 2011 (UTC)
Hello. Check the Merrill page for the link to the "Dragon Age Developer Diary - The Story" video, that's where i took the pictures from.--Rufusdrake (talk) 22:08, January 10, 2011 (UTC)
Uploading Images
Edit
Hey,
I noticed you have been uploading a fair few images recently. The Copyright notice is not being set on them however, which unfortunately means they will likely get deleted.
When you upload an image it gives you the option to select a license - across from where it says Licensing there is a dropdown box which defaults to none selected. Simply select the This image is from Dragon Age: Origins, Awakening, DLC, or a Bioware site. option when uploading to add the correct copyright notice.
Alternatively for images already uploaded, if you go to the image page and click edit, you can add this code to display the copyright notice: http://pastie.org/1454836
I have gone through and done some of them for you, but I am sure there are ones I have missed.
This will stop any images you upload from being deleted :)
--BTCentral (talk) 02:13, January 13, 2011 (UTC)
Thanks for the information and help. I'll do a double check through all the images i've uploaded. --Rufusdrake (talk) 11:41, January 13, 2011 (UTC)
Dragon Age Legends
Edit
Hey Rufusdrake, User:D-day left me your name as someone who's been a valued member of the community. Drop me an email at tierrie at gmail and I will send you a beta key. Cheers! -- tierrie talk contr 03:10, February 16, 2011 (UTC)
Community content is available under
CC-BY-SA
unless otherwise noted.