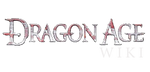 Hi, welcome to the Dragon Age Wiki! Thanks for your edit to the Codex: Books and Songs page.
I hope that you will stick around and continue to help us improve the wiki.
Please leave a message on my talk page if I can help with anything! -- Loleil (Talk) 05:03, 2009 November 17
Changing page names
Edit
Hi, I've take care of Caridin, but I just wanted to let you know how you can change a page name. To do this you need to "move" a page. Up the top of a page, on the same row as the "Edit This Page" button there should be a "Move" button. Click on this, and follow the steps and a page can be re-named. Thanks for the report.

Loleil 21:41, November 17, 2009 (UTC)
Easter Eggs: Work in Progress
Edit
I've been sitting on the Easter Egg page like a broody hen, pecking at anything that tries to reach in underneath. Trying to determine what belongs there and what doesn't becomes incredibly subjective and I'm always wondering about the things that slip through or get away. I wonder if we could use some sort of point based test system....


You have to collect three points in total to be a valid Easter Egg.

3 Points (automatic pass):
- Photographic evidence (comparison shots)
- Identical phrases more than 5 words long.
- Direct Developer source (Word of God)

2 Points:
- Identical Phrases 4-5 words long.

1 Point:
- Anything to do with Bioware's previous titles gain an automatic 1pt possibility rating
- Exact, identical naming.
- Notable identical feature (debatable to a max of 2 pt.)
. This includes: clothing, unusual physical feature, family background, character personality
- Developer sources (Bioware forum, quotes, previews, interviews and contributor's blogs)

0 Points:
- Similar theme (biblical, trope, culture, concept - not debatable)
- Similar names or names that sound like.
- Names that mean something significant in another language (debatable to a max of 1pt.)
- Obviously any phrase less than 4 words long

Feel free to post any points you are unsure of on the Discussion page for feedback.
If you are wondering why your edit is no longer on the page and you are absolutely certain it is valid, post your contribution on the Discussion page.


Each point itself will obviously be debatable; what will be the most difficult to analyse is the notable feature section, worth 1-2 points. But this way, they will always need at least one other evidence to back it up.
I'd like to think a bit more about this. Changed 3pt phrases to 5 words: "I'm not eating any found cake."
The only problem I see with this is that I want it to be simple enough that we don't have to watch each new entry obsessively (itsmineminemineminehahahaha) but a foolproof system will never be that intuitive.
--Lilkam 13:55, December 10, 2009 (UTC)
Community content is available under
CC-BY-SA
unless otherwise noted.