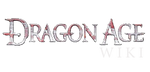 Hi, welcome to the Dragon Age Wiki! Thanks for joining! I hope that you will stick around and continue to help us improve the wiki. Please leave a message on my talk page if I can help with anything! D-day (talk) 15:31, November 25, 2013 (UTC)
Hello and welcome to the english version of the Dragon Age wiki! I would like to inform you that you should sign your comments in forum posts or talk pages by typing four tildes (~~~~). The Template:Unsigned is used by other editors when an editor did not sign his/her post. Cheers!
13:05, December 4, 2013 (UTC)
Community content is available under
CC-BY-SA
unless otherwise noted.