As publisher, the Dark Horse, says, the second issue of Dragon Age: Until We Sleep, the final tome about adventures of Alistair and his friends known from Dragon Age II, will hit the stores on April 24th. This time our heroes will enter the Fade, where their very dreams will become almost real, which may cause a catastrophe. Will Varric save his friends? What will happen to Alistair and Isabela?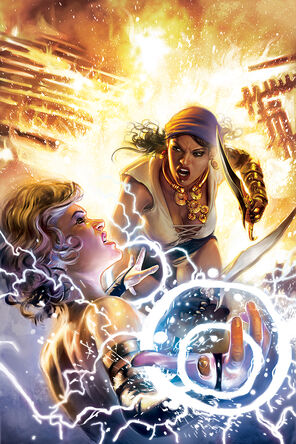 DRAGON AGE: UNTIL WE SLEEP #2 (of 3)
David Gaider (W), Alexander Freed (W), Chad Hardin (A), Michael Atiyeh (C), and Anthony Palumbo (Cover)
On sale Apr 24 FC, 32 pages 3.99 $
Miniseries
Enter the Fade, where the life you always imagined is yours—as long as you never wake up!
Dwarven rogue Varric Tethras travels through the realm of magic and fantasy rescuing his companions from the dreams—and nightmares—that have imprisoned their minds. Will our heroes remember the truth in time to stop the most evil of mages from making his dream a reality?
• Story by David Gaider lead writer of the Dragon Age games and novels!
• An essential addition to the Dragon Age canon!
• Perfect entry point into this epic fantasy!
Community content is available under
CC-BY-SA
unless otherwise noted.