Dragon Age Volume 2: "Those who Speak" will continue to feature the adventures of Alistair, Varrick and Isabella of the Dragon Age universe and will be available in hardcover. The scheduled release date is January 30, 2013 and will include all three issues in one volume. You can preorder here. More information in the extension.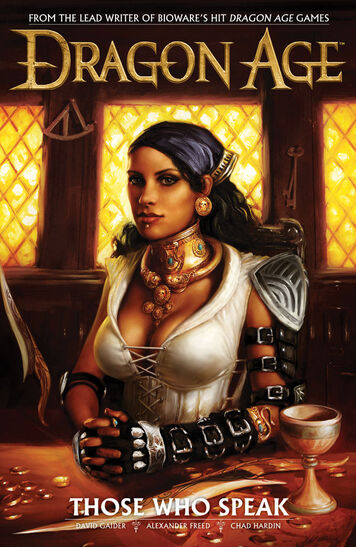 Dragon Age Volume 2: Those Who Speak HC
Dragon Age Lead Writer David Gaider brings his newest epic to a revealing conclusion! With her dark past laid bare, the pirate Isabela must resolve to escape this dungeon or lose herself forever, even as King Alistair must take up arms against an old ally if he is to have any hope of uncovering the fate of his father!
* Story by David Gaider, lead writer of Dragon Age: Origins and Dragon Age II!
* Dragon Age II sold over two million copies in its first two months!
Creators:
Writer: David Gaider, Alexander Freed
Artist: Chad Hardin
Colorist: Michael Atiyeh
Cover Artist: Anthony Palumbo

Genre: Action/Adventure, Fantasy

Publication Date: January 30, 2013
Format: FC, 72 pages; HC 7" x 10"
Price: $14.99
Age range: 14
ISBN-10: 1-61655-053-8
ISBN-13: 978-1-61655-053-0
Community content is available under
CC-BY-SA
unless otherwise noted.