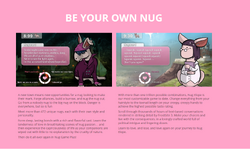 Good News Everyone! Bioware have announced a new Dragon Age Web Browser based game!
Dark Cave, Deep Love A Tale of Nug Meets Nug
Embark on a bold new adventure in never-before-seen parts of Thedas. As the new nug in Nugtown, it's your time to make friends, find love, and avoid getting eaten.
Explore vast fields and deep caves in a world where the promise of adventure lies around every corner, as does sudden, inexplicable death.
Dress up, head out, and stay in the shadows as you go looking for love in all the nug places.
<DISCLAIMER: THIS IS CONTENT OF AN APRIL FOOL'S JOKE BIOWARE RELEASED IN APRIL OF 2015>
Community content is available under
CC-BY-SA
unless otherwise noted.