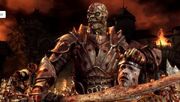 I got Dragon Age for the PS3 for Christmas; and I haven't put it down since. Also, I belive that Darkspawn talk like that caption under the picture next to this. If that made sense.
Character-
Aedan, lvl 11 human noble warrior
Equipment-
Full Juggernaught Armor Set
Enchanted Silverite Dwarven Longsword
Red Steel Metal Kite Sheild
Reflection
Creationist's Cord
Nearly Finished "Nature of the Beast" Quest
Community content is available under
CC-BY-SA
unless otherwise noted.