I am married, and definitely old enough to know better. I have two fluffy white dogs, little Bichon Frises. I love RPG's, both computer and original, and mostly play Pathfinder these days, although I've played a lot of paper & pencil ones in different genres. I've come back to DA: Origins, because of the RP.
About English
Edit
I love language, and have been gently tutoring a friend in the complexities of the English language. Hopefully, I've pulled together my bits and pieces here... CompleCCities of English
About Sarkany
Edit
Sarkany is a city elf warden in Dragon Age: Origins, started in March of 2017.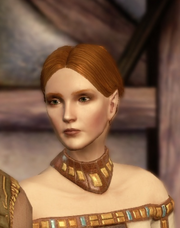 My contributions
Edit
Community content is available under
CC-BY-SA
unless otherwise noted.