For the all items found in Trespasser, see Items (Trespasser).

Trespasser is the third and final downloadable content released for single-player in Dragon Age: Inquisition. Announced on August 29, 2015, it was released September 8, 2015, for PC, PlayStation 4, and Xbox One. Cost: $14.99 USD.
Acquisition
| | |
| --- | --- |
| | This section is incomplete and requires expansion. |
Go to the War Room in Skyhold to begin the DLC, from there you will attend the Exalted Council (in Orlais). Requires 8 power to start.
Plot
Trespasser takes place two years after the events of Dragon Age: Inquisition's main story, and concludes the Inquisitor's story.[1]
Having defeated Corypheus and closed The Breach, the Inquisition's reputation is in a shambles as the Inquisitor faces the demands of Ferelden and Orlais, as well as the scrutiny of the Chantry.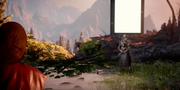 To add to the turmoil,
Qunari
invaders have made use of the
eluvians
to attack the
Inquisition
, and the
Inquisitor
's mark has begun to act up once more as they begin to traverse the seemingly forbidden pathways of the eluvians as well. And in the midst of it all,
Solas
reappears to offer some long-awaited answers.
[2]
[3]
Quests
Mini-Games
Locations
Codex entries
For a complete list, see Category:Trespasser codex entries.
Other texts

Sera's Past and Now Things
Note: Wolf's Welcome
Note: The Lies of the Evanuris
Note: The Promise of Fen'Harel
Note: The Lifting of the Vallaslin
Note: Half-Finished Poem
Note: A Reminder


Dedication


An Unknown Agent
Note: Crumpled Note


The Treachery of the Wolf
Note: Charred Note
Note: Scrap of Writing from a Ben-Hassrath Agent
Notable Characters
Items
Main article: Items (Trespasser)
Achievements and trophies
| Name | Requirement | Gamerscore | Trophy | Image |
| --- | --- | --- | --- | --- |
| Coroner | Find all of the wearable items that make up the Taken Shape. | 15 | Bronze | |
| Lateral Thinker | Unlock all caches watched over by ancient statues. | 15 | Bronze | |
| Trial of Temperance | Rest Easy trial always on in Emprise du Lion: claim Suledin Keep. | 15 | Bronze | |
| Trial of the Emperor | Defeat 20 foes promoted by Walk Softly. | 15 | Bronze | |
| Trial of the Empress | Even Ground on: slay a level 16 or higher Fereldan Frostback. | 15 | Bronze | |
| Trial of the Fool | Take it Slow on: reach Skyhold at level 5 or less. | 15 | Bronze | |
| Trial of the Lovers | Fair-Weather Friends always on: enter Halamshiral with all followers. | 15 | Bronze | |
| Trial of the Magician | Travel Light on for "In Hushed Whispers": finish the quest. | 15 | Bronze | |
| Trial of the Hermit | Slay 10 great bears promoted by Grizzly End. | 15 | Bronze | |
| Trial of the Tower | Rub Some Dirt on It on: slay the Hivernal high dragon. | 15 | Bronze | |
| Forever Marked | Progress the story to unlock. | 90 | Silver | |
References
Notes
Gallery