For the quest, see Trespasser (quest).

Trespasser is the third and final downloadable content released for single-player in Dragon Age: Inquisition. Announced on August 29, 2015, it was released September 8, 2015 on PC, PlayStation 4, and Xbox One for $14.99 USD.
Acquisition Edit
Go to the War Room in Skyhold after the final quest to begin the DLC; from there complete the war table operation Attend the Exalted Council.
Note: Trespasser represents the end of the game. Activating the war table operation triggers a "point of no return"; you will no longer be able to travel to other areas via the World Map--including Skyhold--and you cannot do any quests from the main game or any other DLC, even after finishing the Trespasser content. However, all the items you've placed in your storage chest in Skyhold will be transfered to a new storage chest at the Winter Palace.
After saving the world of Thedas by closing the Breach, your next mission determines the future of the Inquisition itself. Win a race against time to defeat a great evil that could devastate Thedas. In this DLC, playable after the events of Dragon Age: Inquisition, embark on a last adventure to confront the one who started it all.
Two years after the defeat of Corypheus and the closure of the Breach, concerns have grown over the power of the Inquisition, and much of the support and favor it curried has diminished. Ferelden wants dissolution, while Orlais wants heavy oversight. To discuss the future of the Inquisition, representatives of Ferelden, Orlais, and the Chantry call an Exalted Council at the Winter Palace.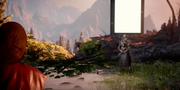 To add to the turmoil,
Qunari
invaders have made use of the
eluvians
to attack the
Inquisition
, and the Inquisitor's mark has begun to act up once more as they begin to traverse the seemingly forbidden pathways of the eluvians. In the midst of it all,
Solas
reappears to offer some long-awaited answers.
Main quest Edit
Side quests Edit
Note: The following side quests will not show up in the Quest Log.

Painting Correction


Harlequin Tag


Halla Treasure Hunt


Expensive Bones


Fireworks

War table operations Edit
Locations Edit
Major locations:

Winter Palace

The Crossroads

Elven Mountain Ruins

Deep Roads (Trespasser)

Shattered Library

The Darvaarad

Elven Ruins
Minor locations:

Abandoned Chateau

Hidden Hollow

Forgotten Tower

Ancient Jail
Notable characters Edit
Codex entries Edit
For a complete list, see Category:Trespasser codex entries.
Note texts Edit

Sera's Past and Now Things


The Gilded Horn's Drink List


Ancient Mosaics


Dedication


An Unknown Agent


The Treachery of the Wolf


Qunari Notes

Main article: Items (Trespasser)
Abilities Edit
Installing Trespasser adds 80 new ability upgrades to the base game. Additionally, the Inquisitor will acquire a new ability titled Anchor Discharge; the ability can be upgraded after certain plot events in the DLC mini-campaign
Achievements and trophies Edit
Note: See Trials for details on obtaining the achievements associated with them.
| Name | Requirement | Gamerscore | Trophy | Image |
| --- | --- | --- | --- | --- |
| Coroner | Find all of the wearable items that make up the Taken Shape. | 15 | Bronze | |
| Lateral Thinker | Unlock all caches watched over by ancient statues. | 15 | Bronze | |
| Trial of Temperance | Rest Easy trial always on in Emprise du Lion: claim Suledin Keep. | 15 | Bronze | |
| Trial of the Emperor | Defeat 20 foes promoted by Walk Softly. | 15 | Bronze | |
| Trial of the Empress | Even Ground on: slay a level 16 or higher Fereldan Frostback. | 15 | Bronze | |
| Trial of the Fool | Take it Slow on: reach Skyhold at level 5 or less. | 15 | Bronze | |
| Trial of the Lovers | Fair-Weather Friends always on: enter Halamshiral with all followers. | 15 | Bronze | |
| Trial of the Magician | Travel Light on for "In Hushed Whispers": finish the quest. | 15 | Bronze | |
| Trial of the Hermit | Slay 10 great bears promoted by Grizzly End. | 15 | Bronze | |
| Trial of the Tower | Rub Some Dirt on It on: slay the Hivernal high dragon. | 15 | Bronze | |
| Forever Marked | Progress the story to unlock. | 90 | Silver | |
Dragon Age series
Dragon Age: Origins

Dragon Age II

Dragon Age: Inquisition

Books
Comics
Films
Novels
Web series
Others