For the area in Dragon Age: Inquisition, see The Raw Fade (Inquisition).
The Raw Fade is a section of the Fade visited by the Warden in Dragon Age: Origins.
Involvement
Edit
This section of the fade is an exposed island lying on the periphery of the
Sloth demon
's domain, which is a realm controlled by one of the lesser demons under sloth's power as part of the protective ward around the
Inner Sanctum
. After shattering the illusion of
Weisshaupt
fortress, the
Grey Warden
headquarters in the distant
Anderfels
, the Warden escapes here where they encounter
Niall
, who reveals the how the Sloth Demon's domain functions.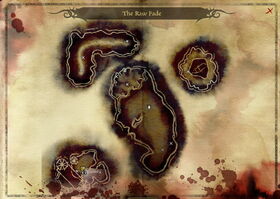 Characters
Edit
Special objects
Edit
Community content is available under
CC-BY-SA
unless otherwise noted.