The Gauntlet is found at the Mountain Top, high on the Frostback Mountains. This ancient temple is unblemished and untouched by the cultists.

The Urn of Sacred Ashes

A Test of Faith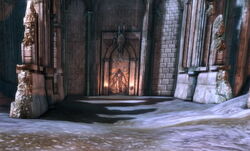 8 Spirits that each ask you a question.
A spirit resembling someone from the origin story of the Warden, who hands you an amulet called Reflection. It is not granted if you refused to answer the Guardian's question.
Spirits resembling copies of the party (including shale if you have the dlc)
If you incorrectly answer during the first test:
If you failed the last test:

Andraste's Arrows, source: Vase

Belt of the Magister Lords, source: Unfortunate Adventurer

Reflection
Pinch of Sacred Ash, source: Urn of Andraste
Notable gifts for companions:

Golden Demon Pendant, source: Unfortunate Adventurer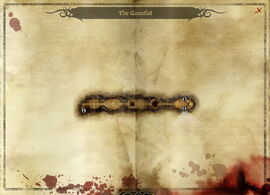 Codex entry: The Maker's First Children, source: Book
Correctly answering the riddles of the 8 spirits of the gauntlet will avoid having to fight them. See the quest page for information on the varying XP awarded.
Community content is available under
CC-BY-SA
unless otherwise noted.