The Black Vials are six small glass phylacteries that can be found around Ferelden. The area around them is unnaturally cold. Dark shapes swirl around a slip of paper within each vial. When the Warden takes a vial, the glass fractures and releases a hostile revenant. Upon their death, each revenant drops a scrap of vellum that updates the Codex entry: The Black Vials.
The vials may be taken in any order.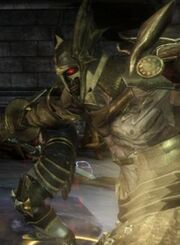 XP and loot dropped by revenants:


Dead Coat of Arms

Emerald Ring
Community content is available under
CC-BY-SA
unless otherwise noted.