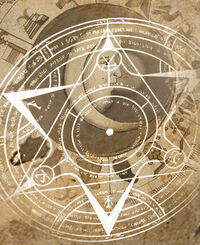 Tevene is the official language of the Tevinter Imperium.[1] Several runes bear Tevinter symbols, some of them old.
In modern Tevinter, Tevene has ceased to be the main spoken language among the population in favour of the Trade tongue. Higher ranking Tevinters use phrases as signs of their education and social standing.[2]
Words and phrases
Alluvin valla kal[3]
Amatus: A term of endearment[4]
Astia valla femundis[5]
Avanna: "Hello."[6]
Benefaris[7]
Calthora Virethen[8]
Corypheus: Conductor
Fasta vass: A swear word.[9]
Incaensor: means a dangerous substance, such as raw lyrium or natron salts. It is often used as derogatory slang for a magic-using slave—something dangerous but useful if controlled.[12]
Kaffas: "Shit." [13]
Manaveris Dracona: "Long live the Dragons."[16]
Na via lerno victoria: "Only the living know victory."[17]
Soporati: A non magic user, also referred to as a sleeper.[18]
Venhedis: A swear word.[9]
Vishante kaffas: "You shit on my tongue."[21]
Vitae benefaria: A respectful goodbye [22]
Ancient Tevene
Ancient Tevene is the ancient and dead language of Tevinter Imperium. The annums (annual holidays) in the Thedosian calendar use a high name from Ancient Tevene, and a low name (Trade tongue).[23]
References
Community content is available under
CC-BY-SA
unless otherwise noted.