For the spells in the previous games, see Tempest (Origins) and Tempest (Dragon Age II).
For the staff in Dragon Age: Inquisition, see Tempest (staff).

Tempest is a rogue specialization in Dragon Age: Inquisition.
Description
Edit
From "Of Storms: Notes on the Tempest in Practice." Kihm's words make one passage stand out:
They expect folly in the Tempest and are fooled, for there is no madness in knowing the absolute limit of ability and charging to that edge. Wars may be a tactical affair, but the one-on-one meeting of combatants is decided by the one who first realizes they are in mortal peril and commits fully. Many reach that point; the Tempest starts there. By the time their foes have risen to match, it is too late.
And another:
They asked what type of shot they should encase the mixture in, expecting some trebuchet pot or a vessel fit to pour over a palisade. I bade them make it by the barrel and store it in my quarters with a thousand glass vials. They were afraid, and I smiled.
Another still:
Forward! Ever so! Where you were is dangerous! Where you go is dangerous! Different reasons, both to your advantage! Leap! Then leap again! Looking is for witnesses, not the disaster!
Also one more:
I did not say I was unappreciative, nor unimpressed. That you were a sight to behold is not in question. All I noted is that the Tempest is offensive not just in ability, but in what condition you leave the field. I should like a hundred of you to deploy in the cities of my enemy, and not a one to stand as defense in my own home.
A series of unstable brews follows.
—From
Codex entry: Way of the Tempest
Tempest emphasizes elixir-based abilities to give your rogue a tactical advantage during combat. Flask of Frost, Flask of Fire, and Flask of Lightning all provide unique benefits, but they can't be used simultaneously- you must wait for the effects of one elixir to expire before activating a new one.
Acquisition
Edit
This specialization is obtainable through the quest Way of the Tempest from Kihm.
Ability tree
Edit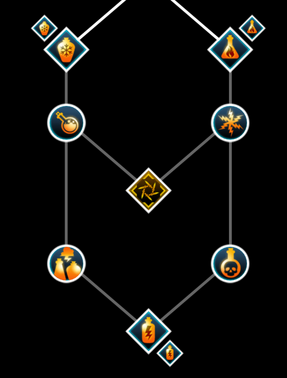 Flask of Frost

Activated
Activation: 20 stamina
Duration: 5s
Cooldown: 32s
This flask coats you in an icy skin that increases your armor and freezes enemies that strike you in melee range. You can't use this ability while another one is active.

Damage Resistance: 85%
Freeze Duration: 1 second
Bitter Chill
Upgrade
Requires: Flask of Frost
Activating Flask of Frost also taunts all nearby foes to attack you.

Radius: 5 meters

Frostbite
Upgrade
Requires: Trespasser
Shattering enemies while Flask of Frost is active deals damage to other nearby enemies.

Flaskmaster

Passive
Requires: Flask of Frost
Your experience with elixirs has made you better equipped to handle potions and other consumables, letting you carry more of them at a time and giving you a 25% chance not to use an elixir when you activate an ability. This ability does not apply to healing potions.

Maximum Potions Bonus: 1
Chance to Activate: 25%
Dexterity +3
Ride the Storm

Passive
Requires: Flaskmaster
The effect of your elixir lasts longer if you activate one immediately after another expires.

Bonus Duration: 3 seconds
Dexterity +3
Flask of Fire

Activated
Activation: 20 stamina
Duration: 5s
Cooldown: 32s
This flask coats you in flames that spur you to frenzied action. For a short time, your abilities cost no stamina, and enemies who attack you are knocked backward. You cannot use this ability while another elixir is active.
Flaming Chain
Upgrade
Requires: Trespasser
Each unique ability you use while Flask of Fire is active increases its duration.

Fury of the Storm

Passive
Requires: Flask of Fire
When your stamina is exhausted, you fight even harder, lashing out with fury to win the fight.

Damage Bonus: 10% when Stamina < 50%
Constitution +3
Killer's Alchemy

Passive
Requires: Fury of the Storm
You can use more concentrated elixirs that give you an uncanny edge in battle. You do bonus damage with all attacks for a short time whenever you use an elixir or potion. This bonus is stackable.

Damage Bonus: 15%
Duration: 10 seconds
Constitution +3
Flask of Lightning

Activated
Activation: 20 stamina
Duration: 5s
Cooldown: 32s
Requires: Ride the Storm or Killer's Alchemy
This flask sends you into a heightened state of incredible speed. Everyone on the battlefield except you moves much more slowly for a short time. You cannot use this ability while another elixir is active.

Speed Reduction: 60%
Thunderstruck
Upgrade
Requires: Flask of Lightning
Your Flask of Lightning is more concentrated, making time almost stop around you. Each enemy you damage while the effect is active takes aditional electricity damage when it ends.

Speed Reduction Bonus: 39%
Eletric Damage: 300% Weapon Damage

Stormrage
Upgrade
Requires: Trespasser
Flask of Lightning lasts longer and knocks back enemies that you strike while it is active.

Thousand Cuts

Activated
Activation: Focus
Requires: Flaskmaster or Fury of the Storm
You choose a target, then dash to and fro- a shadow leaving blood with every leap. After you slice through other nearby foes, you land behind your target, striking deep. This ability consumes and is powered by Focus.

Damage per Hit: 300% weapon damage
Tier 1: Number of Hits: 12
Tier 2: Number of Hits: 25
Tier 3: Number of Hits: 38
Known Tempests
Edit
Community content is available under
CC-BY-SA
unless otherwise noted.