Master Taniel is the craftsmaster for Keeper Hawen and a merchant in Dragon Age: Inquisition. She can be found among the Dalish clan located at the encampment on the Exalted Plains.
Taniel sells weapons, weapon upgrades, weapon schematics, weapon upgrade schematics, crafting materials, armors, armor schematics, and armor upgrade schematics at her stall.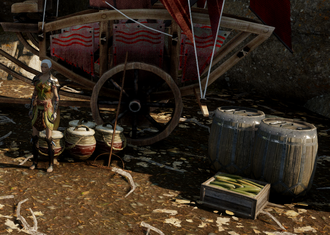 Initially, Taniel is hostile towards the Inquisitor and will not trade with them. However, improving the Inquisition's standing with the clan by progressing through the side quest By the Grace of the Dalish and gaining

Dalish Favor will make her warm up to the Inquisitor and open up her wares.
With the acquisition of the Short List Inquisition perk, the following items are added as special offers. These offers are available randomly each time the Inquisitor enters the map. Only one special offer is available at a time. The offer will always be listed first in its category:
Community content is available under
CC-BY-SA
unless otherwise noted.