Name
So, as I recall from the first showings of DAI stuff back with the GameInformer things last year, we seen this particular demon and had it referred to as a "Nightmare." The creature was once more referred to as a Nightmare in a Facebook release,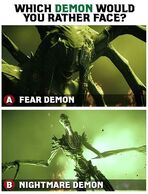 however twitter has called it the "Terror Demon" which is the only place I've heard it called such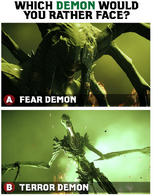 .
Do we have any idea which is correct? We've heard Nightmare more often, but that may have been in regards to them having said it will be a 'nightmare to fight,' and not actually indicative of the particular demons typing.
(PS. we're still missing the Despair Demon, are we not?) User:ChaosMorning
Mike Laidlaw on the IGN stream confirm that it's Terror demon also they are lesser demons and subservient to Fear Demons. User:Alexei007
So it is a "Nightmare" not a Terror Demon. The latest video (https://www.youtube.com/watch?v=fCGJACVoMPI) shows the 'Codex Unlocked: Nightmare' as soon as the creature is killed (see 3:27 in the video) User:ChaosMorning