This is the talk page for discussing improvements to the Terror demon article.
General discussions not pertaining to the improvement of the article should be held in Discussions instead.
Put new text under old text. Click here to start a new topic.
Please sign and date your posts by typing four tildes! (~~~~)
Do not edit another editor's comment.
So, as I recall from the first showings of DAI stuff back with the GameInformer things last year, we seen this particular demon and had it referred to as a "Nightmare." The creature was once more referred to as a Nightmare in a Facebook release,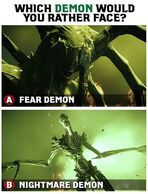 however twitter has called it the "Terror Demon" which is the only place I've heard it called such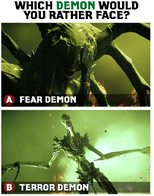 .
Do we have any idea which is correct? We've heard Nightmare more often, but that may have been in regards to them having said it will be a 'nightmare to fight,' and not actually indicative of the particular demons typing.
(PS. we're still missing the Despair Demon, are we not?) User:ChaosMorning
Mike Laidlaw on the IGN stream confirm that it's Terror demon also they are lesser demons and subservient to Fear Demons. User:Alexei007
So it is a "Nightmare" not a Terror Demon. The latest video (https://www.youtube.com/watch?v=fCGJACVoMPI) shows the 'Codex Unlocked: Nightmare' as soon as the creature is killed (see 3:27 in the video) User:ChaosMorning
These guys are painful to fight against. I always worry whenever I see them about their knockdown effect. Once you're caught in a duo of them, that's it, the fight is pretty much over in Nightmare. Gotta love stunlock. 81.100.126.86 (talk) 04:55, December 22, 2014 (UTC)
I'm thinking the article should be renamed to either "Terror" or "Terror (demon)". Other than promotional material, I can't find any source that actually calls these creatures "Terror demon", and they're just called Terrors in Inquisition.--♫ Kelcat Talk 03:19, April 3, 2015 (UTC)
Terror would also require us to add a disambiguation article with the ability of the same name.
-
03:25, April 3, 2015 (UTC)
Community content is available under
CC-BY-SA
unless otherwise noted.