This is the talk page for discussing improvements to the Korcari Wilds article.
General discussions not pertaining to the improvement of the article should be held in Discussions instead.
Put new text under old text. Click here to start a new topic.
Please sign and date your posts by typing four tildes! (~~~~)
Do not edit another editor's comment.
What are the quests that can be started in this area?
Edit
--Triton Hydra 03:17, November 24, 2009 (UTC)
Squirrel following you?
Edit
Did anyone else notice a squirrel in the wilds following you? You just see it for a while and then it disappears. Morrigan tells you that she was watching your progress long before she actually approaches you. Creepy... --BeerMage 23:41, January 6, 2010 (UTC)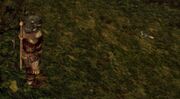 Where did the knife come from?
Edit
When you kill the injured scout, you have a knife. Where do you get this knife? It just appears. I mean, in the City Elf Origin when you kill a guard in a cutscene, you just hit him in the face with your fist and it's implied he hits his on something as he falls. I mean, my mage could have beaten him to death with my staff. The weird thing is that I recieved a dagger after this. Just for slitting the guy's throat. Coroxn 10:27, January 11, 2010 (UTC)
Dying Soldier
Edit
The dying soldier cutscene can have influence over Alistair's approval: Killing the soldier earns you a -3 from Allistair.
Anyone know the various dialog options for this event? --Tsavi (talk) 08:23, October 29, 2010 (UTC)
Wolf Pelts
Edit
pc

For those of us who enjoy reloading fights to maximize/optimize loot, do not bother with the area's wolves. It appears that once ten pelts have dropped, that's it - despite there being at least 16 wolves on the map, and notwithstanding heading back to the quartermaster to sell off whatever pelts you have after each wolf-fight. --Yeti magi (talk) 01:02, January 14, 2012 (UTC)
Commander's Plate Armor
Edit
Given that the Commander's Plate Armor set is such a rare item drop, is it worth noting on this page that one of the chests is a potential source for a piece?
Do you find one in the Korcari Wilds? Weird considering the level you are when you get there. However if you find one, feel free to add a note about it in the page and also from whom did you loot it.
00:10, July 30, 2012 (UTC)
We really need an in-game image for this article, not just different concept arts.-HD3 (talk) 02:41, August 10, 2013 (UTC)
Community content is available under
CC-BY-SA
unless otherwise noted.