This is the talk page for discussing improvements to the Felix Alexius article.
General discussions not pertaining to the improvement of the article should be held in Discussions instead.
Put new text under old text. Click here to start a new topic.
Please sign and date your posts by typing four tildes! (~~~~)
Do not edit another editor's comment.
Voice actor
Edit
Does anyone have a source (other than IMDb- which I'm fairly certain someone added as speculation) for Crispin Freeman voicing this character? Freeman isn't listed in the credits and BioWare isn't known for leaving VAs out of the credits. --Westridge (talk) 23:40, November 30, 2014 (UTC)
I have an old screen shot of mine on twitter from Ben Gelinas, who co-authoered World of Thedas, marking some inconsistencies with Felix and Livia, pertaining to their trip where the darkspawn attacked. Would anyone be opposed if I were to make the changes in Felix's article to reflect this?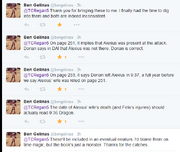 TCRegan
(
talk
) 15:59, November 15, 2017 (UTC)
Community content is available under
CC-BY-SA
unless otherwise noted.