This is the talk page for discussing improvements to the Contact Hero of Ferelden article.
General discussions not pertaining to the improvement of the article should be held in Discussions instead.
Put new text under old text. Click here to start a new topic.
Please sign and date your posts by typing four tildes! (~~~~)
Do not edit another editor's comment.
Page Name
Edit
The page
Contact Hero of Ferelden
was proposed for deletion however the operation is definitely called "Contact Hero of Ferelden" and not
Contact the Hero of Ferelden
in game.--
Ness csr
(
talk
) 03:48, January 13, 2015 (UTC)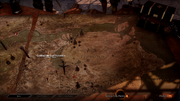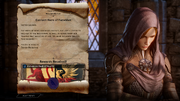 Whoops! Yes, you're right. I mixed them up. Sorry! --KeladinStorm (talk) 16:07, January 13, 2015 (UTC)
Acquisition
Edit
I understand this operation can be obtained in a number of ways (e.g. from Alistair if he's a Grey Warden and romancing the Warden) so I've put the stub tag back on. I've never actually obtained the operation other than by speaking with Leliana so I haven't made any changes to the Acquisition section myself. -- Ness csr (talk) 06:11, January 17, 2015 (UTC)
Community content is available under
CC-BY-SA
unless otherwise noted.