m (updating links)

 

(8 intermediate revisions by one other user not shown)
Line 1:
Line 1:
−

{{pictures wanted}}

 
 

<onlyinclude>{{LocationTransformer

 

<onlyinclude>{{LocationTransformer

 

|style = {{{style|}}}

 

|style = {{{style|}}}

 

|name = [[Tal-Vashoth Cavern]]

 

|name = [[Tal-Vashoth Cavern]]

−

|icon =

+

|icon =

−

|image =

+

|image =

−

|px =

+

|px =

−

|type = cave

+

|type =

 

|location = [[Free Marches]]

 

|location = [[Free Marches]]

 
⚫
 

|appearances = [[Dragon Age II]]

 

|appearances = [[Dragon Age II]]

 

}}</onlyinclude>

 

}}</onlyinclude>

 
 
−

The '''Tal-Vashoth Cavern''' is an area in ''[[Dragon Age II]]''. It's only accessible during [[Blackpowder Promise]]. {{SpoilerDA2| [[Javaris Tintop]] hires Hawke to kill Tal-Vashoth on [[The Wounded Coast]] in an attempt to get on the [[Arishok]]'s good side.}}

+

The '''Tal-Vashoth Cavern''' is [[]] [[]] [[]] the [[]] .

 
 
 
+

== Involvement ==

−

==Involved In==

 
 
+

{{SpoilerDA2|style=short|

−

[[Blackpowder Promise]]

 
 
+

[[Javaris Tintop]] hires Hawke to kill [[Tal-Vashoth]] on the [[Wounded Coast]] in an attempt to get on the [[Arishok]]'s good side. Hawke enters the cavern and kills the Tal-Vashoth and their leader.}}

−
 
 
+

[[File:Tal-Vashoth Cavern Map.png|thumb|300px|Map of the area]]

−

==Notable Items==

 
 
⚫
−

*[[Silverite]]

 
−

*[[Raw Lyrium]]

 
−

*[[Formula: Combustion Grenade]]

 
−
 
⚫
 
 

* Tal-Vashoth

 

* Tal-Vashoth

 

* Tal-Vashoth Officer

 

* Tal-Vashoth Officer

Line 27:
Line 23:
 

* Tal-Vashoth Leader

 

* Tal-Vashoth Leader

 
 
−

==Exits==

+

====

 
+

{{:Formula: Combustion Grenade|style=iconmini}} - found on the body of the Tal-Vashoth Leader{{clrl}}

⚫
 
 
+

{{:Raw Lyrium|style=iconmini}}{{clrl}}

 
+

{{:Silverite|style=iconmini}}{{clrl}}

 

[[Category:Dragon Age II locations]]

 

[[Category:Dragon Age II locations]]

 
+

[[Category:Underground]]
---
Latest revision as of 17:52, 19 January 2015
The Tal-Vashoth Cavern is the current hideout of a large well armed band of Tal-Vashoth who have deserted from the contingent of Qunari under the Arishok's command in Kirkwall. It is only accessible during the Blackpowder Promise quest.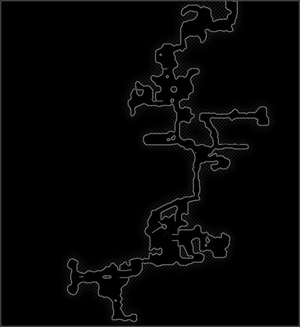 Tal-Vashoth
Tal-Vashoth Officer
Tal-Vashoth Saarebas
Tal-Vashoth Leader

Formula: Combustion Grenade - found on the body of the Tal-Vashoth Leader
Community content is available under
CC-BY-SA
unless otherwise noted.