Sunbaked Canyon is the location of a random encounter in Dragon Age: Origins - Awakening.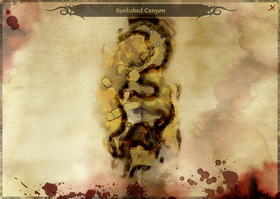 Notable items
Edit

Dragonbrand
Dragonbrand
---
Greatsword
Volcanic Aurum (Tier 9)
Requires: 46 strength

Damage: 19.80
Critical chance: 2.70%
Armor penetration: 7.50
Strength modifier: 1.10


+5 constitution
+1.5 armor penetration
+1/+2 stamina regeneration in combat
+10 attack
+20 damage vs. dragons

Diary Page
Diary Page
---
Generic


"I have finally tracked down the wyrmslayer, Dragonbrand. The creature that slew my family will see vengeance!"




World map
Community content is available under
CC-BY-SA
unless otherwise noted.