For spells in Dragon Age: Origins, see Spells (Origins).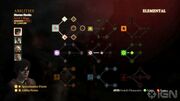 Spells give mages the ability to devastate their foes, and to protect and heal themselves as well as their allies. Spells are used by mages instead of talents. Mage spells include six main schools of magic, the same of Dragon Age: Origins and a new: Elemental, Primal, Entropy, Spirit, Arcane and Creation, in addition to three specializations: Force Mage, Spirit Healer and Blood Mage.
You can reassign your spells by using the Maker's Sigh, purchasable in the Black Emporium in Kirkwall.
Only Hawke is able to access all six schools of magic - Anders cannot learn Entropy magic, Merrill cannot learn Creation magic, and Bethany cannot learn Primal magic.
Types of spells
[
]
Activated
[
]
Diamond icons represent active talents that have an instant effect: the character executes a special attack or action (e.g. casting a Fireball at a group of enemies).
Unless otherwise noted, all activated talents use a fixed amount of mana.
Passive
[
]
Circle icons represent passive abilities that add a permanent bonus, change in game mechanics, or upgrade to an existing ability (e.g. doing more damage with elemental spells).
Sustained
[
]
Hexagon icons are sustained abilities that can be turned on and off. The character gains some bonuses or some game mechanics will change (e.g. adding extra armor or regaining mana from dead enemies).
Dragon Age II abilities

Talents

Spells
External links
[
]