Sign of Safe Passage is a quest received from the Favors for Certain Interested Parties Quest Board.
Background
An interested party needs a bushwacker to enter the West Brecilian Forest and fire a signal arrow.
Walkthrough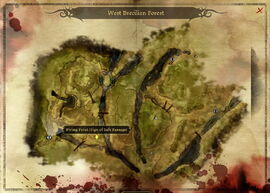 Note: This quest requires The Warden to have an actual bow (longbow or shortbow) equipped when the location is approached. A crossbow will not suffice.
Go to the location marked in the West Brecilian Forest and use a bow to fire a message arrow across the treetops. After doing so the party gets a visit from a Denerim mercenary who attacks. After defeating him, searching his body yields the By Order of Emer Thorogood codex entry.
After that it is a simple matter of returning to the tavern and collecting the reward.
Result
4