"Anything you need is yours. For a reasonable price, of course."

Seggrit is a merchant in Dragon Age: Inquisition; his stall can be found in the village of Haven located in the Frostback Mountains.
Seggrit sells weapons, weapon upgrades, weapon upgrade schematics and armors.
Seggrit is one of the few merchants serving in Haven after the Conclave is destroyed. Once the Inquisition has been restored, Seggrit will agree to help by offering various supplies at what he claims is a "discount." Seggrit's wares are unlocked after completing the main quest the Threat Remains.
When the
Elder One
attacks Haven
, Seggrit becomes trapped inside his burning house. As
the Herald
retreats to the Chantry, they may be able to rescue him before he is consumed by the flames. If he is saved, he will travel with the rest of the
Inquisition
to their new base at
Skyhold
, though he will not set up shop. Instead, he can be found wandering around Skyhold, complaining about how he has been replaced by
another merchant
.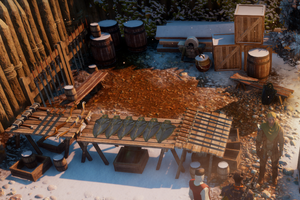 Community content is available under
CC-BY-SA
unless otherwise noted.