Saphi is an Orlesian merchant in Dragon Age: Inquisition; her shop can be found in Val Royeaux.
Background
[
]
This merchant sells mid-high level armors, armor upgrades and accessories. The merchant is located on the northwest side of the Summer Bazaar in the same store front as Pierre-Marie.
Involvement
[
]
Saphi's wares are unlocked upon completion of the main quest Here Lies the Abyss or Wicked Eyes and Wicked Hearts.
Wares
[
]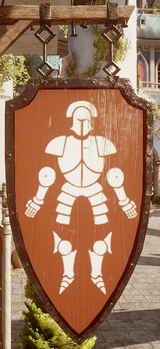 Helmets
[
]
Vitaars
[
]
Light armor
[
]
Medium armor
[
]
Heavy armor
[
]
Armor upgrades
[
]
Special offers
[
]
With the acquisition of the Short List Inquisition perk, the following items are added as special offers. These offers are available randomly each time the Inquisitor enters the map. Only one special offer is available at a time and it is always listed first in its category:
Armors
[
]
Accessories
[
]
Crafting materials
[
]
Quotes
[
]
"Welcome, and thank you Inquisitor"
"It is a wonder to see how high your reach extends, Inquisitor. I hope to help in a small way."