The runestone puzzle is an unmarked side quest in Dragon Age: Origins - Awakening.
If the Warden-Commander travels south of the prison with Steafan in the trade quarter of Kal'Hirol, you will find the puzzle. There are five runestone pillars and five runestone markers.
In order to loot the sarcophagus in the middle of the room, you must solve the puzzle by matching the rune on the runestone to that of the pillar.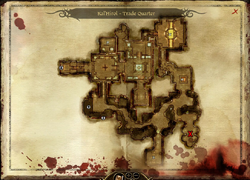 To do this:
Go to a Runestone where the rune does not match the rune on its Pillar.
Note the shape and colour of the rune on the Runestone (not the Pillar) prior to selecting it.
Select the Runestone (the Runestone should flame).
Find the Pillar which matches the rune from the Runestone noted previously.
Note the rune on the Runestone before selecting it.
Select the Runestone in front of this pillar. The rune on the Runestone should change to match the rune on the Pillar (if the stone flames then you've done something wrong).
Repeat steps #4-6 for each of the Pillars. When all five match, the runes will vanish and the sarcophagus will open. The order in which this is done is irrelevant.
750 XP for solving the puzzle
The sarcophagus in the middle of the room will be exposed. It contains:

Gauntlets of Hirol's Defense

Nature's Blessing
Flawless Emerald

Money 8

 18

 0

Community content is available under
CC-BY-SA
unless otherwise noted.