The nation of Rivain is located in the northern parts of Thedas. Its capital city is Dairsmuid, which is on in the southern end of the Rivain peninsula.
Geography
Major cities:
Dairsmuid (Capital)
Kont-Aar - a Qunari settlement located on the northern coast. It's the last holding of the Qunari on the main land of Thedas and is supposed to be well fortified.
History
Culture
Its dark-skinned humans, the Rivaini, have a peaceful relationship with the elves. The Qunari settlement of Kont-Aar is in northern Rivain. Racially, the Rivaini originally hail from island chains beyond the Donarks.[4]
Unlike the majority of peoples in Thedas, the Rivaini are not Andrastians and don't believe in the Maker. Rather, they are pantheists who believe in the Natural Order. Many, especially in Kont-aar, have also converted to the Qun, as their religion and the Qun are not very contradictory.
Though a Circle existed in Rivain, it was merely a means to appease the Chantry. The Mages of the Circle were allowed to see their families and the women were specifically trained to be seers, a position in Rivaini society that is revered as a matter of tradition. These local hedge witches converse with spirits and even allow themselves to be possessed, though it is supposedly done so for the benefit of their villages. [5]
When the Chantry discovered these facts in 9:40 Dragon, they called the Mages of the Circle of Dairsmuid apostates and declared a Right of Annulment down upon them.
The Rivaini have skin tones ranging from dark tan to ebony.[6] Social standing in Rivain is often marked by tattoos and body piercings. The more elaborate one's decorations, the higher one's rank.
Notable people with Rivain origins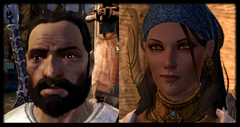 For a complete list, see :Category:Rivaini.
Trivia
Rivain is loosely based off of Spain in that Spain was the point of entry for the Moors to enter Europe, and its culture was changed a great deal by the Moorish presence.[7]
Rivain religion, which is centered around Seers, has similarities with voodoo. Also, in Rivain piercings show social status, just like some African tribes.
In the old BioWare forums, David Gaider stated that Dalish in Rivain have a semi-permanent settlement in the city of Llomerryn.[8] However, a party banter during Act 2 in Dragon Age II between Isabela and Merrill reveals that the Dalish have not yet reached Llomerryn.
See also
Codex entry: Rivain

Codex entry: The Llomerryn Accords

Codex entry: Tal-Vashoth
References
↑ Dragon Age: Asunder, Chapter 22.
↑ Dragon Age: The World of Thedas, pg. 80
↑ Gaider, David. "Bioware should break a barrier." Bioware Social Network. Retrieved 28 March, 2012.
↑ Gaider, David (May 20, 2009). "Dalish elves" (archive). BioWare Forums (offline). Retrieved on May 25, 2012.