Everything you need to know, from our community of experts.
Dragon Age: Inquisition 101
With 2009's
Dragon Age: Origins
, Bioware looked to create a spiritual successor to Baldur's Gate, but in the vein of the hit
Mass Effect
series.
Dragon Age: Inquisition
is the latest installment, and address some of the issues fans had with
Dragon Age 2
. Inquisition sports bigger, more diverse environments, a more tactical approach to combat, and increased customization for players. Set in
Thedas
, the game focuses on the ongoing
Mage-Templar War
. The player assumes the role of
The Inquisitor
, a mysterious figure who's apparently capable of manipulating the
Fade
. The player's background story will hinge on the race and class they chose to play as. Players can also import their decisions and choices from previous Dragon Age games, and tailor their backstories via the
Dragon Age Keep
application. Check out the rest of the
Dragon Age Wiki
for more backstory, lore and all the latest information on BioWare's new game!
Dragon Age: Inquisition: Character Manual


Inquisition features a huge number of new companions for you to get acquainted with. Get a head-start on figuring out who you're going to use, and romance, by checking them out below!
Dragon Age: Inquisition: Developer Expert Showcase
Dragon Age: Inquisition Community Q&A
Dragon Age: Inquisition's Executive Producer, Mark Darrah, answers your questions about Inquisition's development.
Community Essentials
Dragon Age admin Loleil relates her history with the franchise and shares her expectations for Inquisition. We also took the wider community's temperature via a handful of polls, the results of which can be viewed in graphical form below and in full on on this blog post.

---
Fan Input, by Loleil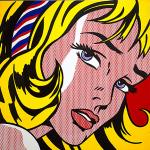 As we enter the final countdown to Dragon Age: Inquisition, I'm so excited to venture into Thedas once more. As soon as I heard that BioWare were making a classic RPG I knew I wanted to play it, and the more I discovered, the more I was drawn in. The deep world, quirky characters, and involved stories have had me hooked since Dragon Age: Origins.
From everything we've seen (and from what I've played!) of Inquisition I feel like BioWare have really listened to their fanbase and taken the time to create a Dragon Age game that is going to be really special. The variety of quests, terrains, and crafting options, are just some of the things I'm looking forward to exploring in depth.
I can't wait to once more create my amazingly lethal rogue and set her lose on the world!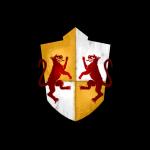 What's the biggest improvement over Dragon Age 2 you think Inquisition will bring?
Choice and impact. From what we've seen so far, Inquisition handles player agency and its impact on the story and world superbly, in a way I'm sure will surpass any previous installment in the series!
What are your thoughts on the co-op mode?
I think it's interesting that DA players will now be able to have a truly team-based experience. While I probably won't focus too much on the co-op myself, I'm excited for the people who have been wanting this.
What class/race will you be playing as and why?
ALL OF THEM! I'll probably start with a human rogue, but I have no doubt I'll eventually work my way round all the races and classes.
What is it about the Dragon Age that draws you to it?
I can't pinpoint a single thing that draws me to DA. I think my interest began when I watched an Origins trailer and was struck by the atmosphere the game seemed to evoke. I remember thinking it was like a dark version of Middle Earth, which immediately piqued my interest. The first time I played Origins I was hooked, and my interest has only grown since then!
---
Community Essentials
Community Questions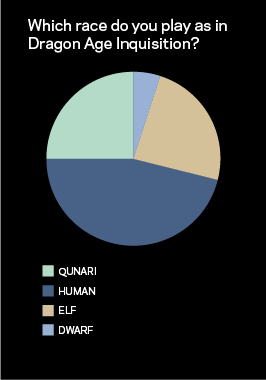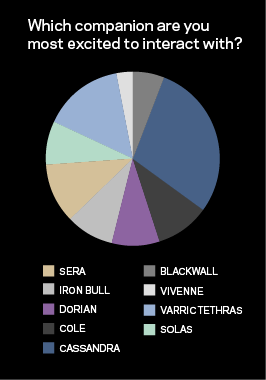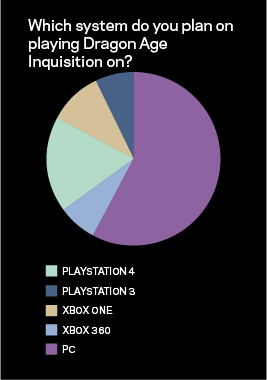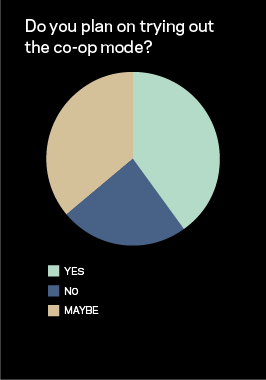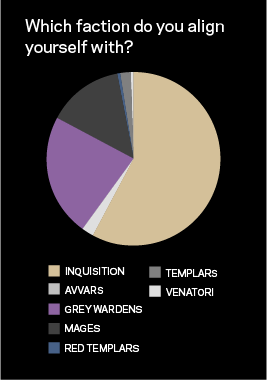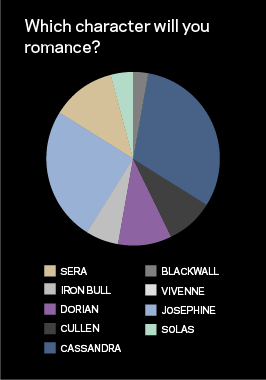 Results as of November 7th, 2014
Dragon Age Character Class Quiz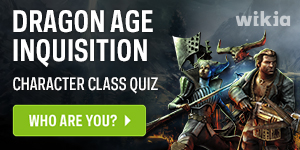 Writing Project Giveaway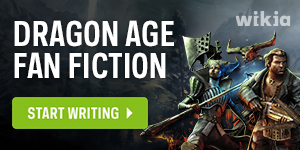 Contribute to the Collaborative Writing Project for a chance to win a copy of Dragon Age: Inquisition! Enter here!
Essential Trailers & Videos
Gameplay Demo
The Inquisitor and Followers
Choice & Consequences
Essential Images