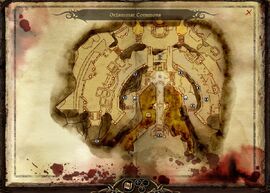 The Orzammar Commons is a district in Orzammar, one of the last two Thaigs. The Commons is the main place for surfacers, and other visitors, to conduct business in Orzammar. When entering this area for the first time, you will see a couple of dwarves debating heavily. Ending in one of the dwarves, killing the other. After that, you will receive Codex Entry: Lord Pyral Harrowmont.
Characters
Enemies
Lord Pyral Harrowmont or Prince Bhelen supporters: (After siding with either one.)
or
Codex Entries
Codex Entry: The City of Orzammar
, source: Floor Carvings
Codex Entry: The Castes
, source: Wall Carving
Codex Entry: On Shapers
(part of the codex), source: Runestone
Codex Entry: Cut to Kal Sharok
, source: Rune Plate
Codex Entry: The Key to the City
, (part of the codex), source: Document
Involved In

A Mother's Hope

The Chant in the Deeps

A Lost Nug

An Unlikely Scholar
Approval Changes
Accepting the quest for Brother Burkel

Leliana + 2
Sten -5 (Note: If a persuade check is passed, Sten loses no approval)

Accepting the quests for Zerlinda and Dagna
Accepting the quest for Dagna
Exits

Orzammar Hall of Heroes
, The way in and out of
Orzammar

Janar Armorers / Beraht's Shop
, A smithy.

Tapster's Tavern
, the tavern of the area.

Figor's Imports
, locked when you first arrive.

Orzammar Diamond Quarter

Orzammar chantry
, when you successfully complete the quest
The Chant in the Deep
.

Dust Town

Orzammar Proving

Deep Roads
Gallery
See also

Orzammar

Frostback Mountains