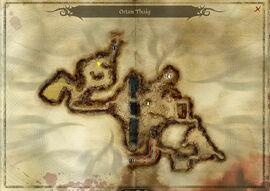 Ortan Thaig is located in the Deep Roads, east of Caridin's Cross.
Background
This is where the Paragon Branka took her entire House in order to search for the Anvil of the Void. It was the birthplace of the great Paragon Caridin and he preferred it to the Thaig he was given when he became a Paragon.
In order to unlock this area, you must first traverse Caridin's Cross. It is populated by Spirits, Spiders and Golems. Ruck can be found in the north-eastern area near the bridges. Talking to him nets some information about Branka, and is also necessary to complete the quest A Mother's Hope.
In the area where you first meet Ruck, near the two bridges, is the chest containing the documents requested by Orta for Lost to the Memories.
The final resting place for the An Admirable Topsider is also in this Thaig.
You can find a place of power for the Places of Power quest next to the altar of sunder (it's nearby Ruck; you've got two bridges on the other side of the river, altar is before the bridge which is located lower).
Characters
Enemies
Items and Codex Entries
Codex Entry: Topsiders Honor
, source:
Warrior's Grave
Topsider's Pommel
Topsider's Pommel
---
Plot item
A weighted pommel of obviously fine elven make. A partial inscription glows faintly in the presence of lyrium, but remains unreadable.

, source:
Vase
, giving the quest
An Admirable Topsider
Codex Entry: Caridin's Journal
, source: Book
Involved In

A Paragon of Her Kind

A Mother's Hope

Lost to the Memories

Places of Power

An Admirable Topsider

Asunder
Exits

Deep Roads

Dead Trenches
, Walking to the end of the area unlocks.
See Also

Orzammar