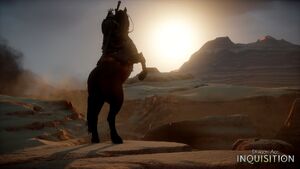 Mounts are a mode of transportation available to the Inquisitor in Dragon Age: Inquisition. There are different types of mounts and each gives the rider different bonuses.[1] Some mounts are available only in the Digital Deluxe edition of the game.[2] Companions don't have mounts and disappear while the Inquisitor is mounted. There is no party banter in this mode. The mounts can be changed next to the smith in Haven and SkyHold. [3]
Types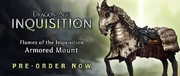 Horses
Dracolisks
Harts
Exotics
Bog Unicorn[2] – an undead horse previously belonging to a bandit. It was killed by a sword piercing its skull. The sword stuck in its head looks similar to a unicorn horn. Available as part of the deluxe edition.
Avvar Mixed Draft – a proud and adaptable variant of the breed; this horse is uniquely trained by a master. Available as part of a Raptr promotion.[6]
Notes
In promotional materials the Red Hart is incorrectly named "Red Hart Halla". Mike Laidlaw has confirmed that this is an error.[7]
Gallery
References
Community content is available under
CC-BY-SA
unless otherwise noted.