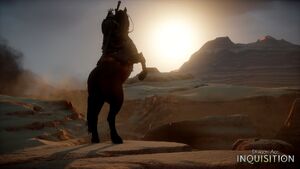 This article contains information about the upcoming game, Dragon Age: Inquisition.

As such, the information is subject to change. This article should consist only of facts and images from official and reliable sources and not speculation.
Mounts are a mode of transportation available in Dragon Age: Inquisition. Mounts can be armored by The Inquisitor with the Flames of the Inquisition. There are additional mounts available in the Digital Deluxe edition of the game[1].
Types
Usable
Bog Unicorn - Once belonging to an evil marauder, this unique mount has returned to inspire fear into those who would oppose The Inquisitor.[1]
Armored Mount - Available as part of Flames of the Inquisition DLC.
Not Usable
References
Community content is available under
CC-BY-SA
unless otherwise noted.