Mounts are a mode of transportation available to the Inquisitor in Dragon Age: Inquisition. There are different types of mounts and each type can take a different amount of melee hits before unsaddling you and disappearing, with horses taking one blow, harts taking two, dracolisks three, and nuggalopes four.[1] Some mounts are available only in the Digital Deluxe edition of the game. Companions don't have mounts and disappear while the Inquisitor is mounted. There is no party banter in this mode. The mounts can be changed next to the smith in Haven and Skyhold.
Some mounts can be bought at Master Dennet's shop next to the stables at Skyhold. You need to convince Master Dennet to come to Skyhold with you for that. For example if you have Cassandra in your party, you get an additional conversation slot where she convinces him to join out of faith. If Vivienne is in the party, she says she can have an Orlesian Chevalier come to Haven to be horsemaster, and Dennet takes offense at this and agrees to join the Inquisition. If Dorian is in your party, he says he will have a Tevinter servant take care of the horses, and Dennet will also take offense and join the Inquisition.
Types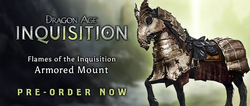 Horses
Dracolisks
Harts
Exotics
Notes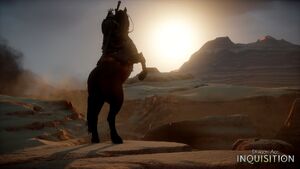 In promotional materials the Red Hart is incorrectly named "Red Hart Halla". Mike Laidlaw has confirmed that this is an error.[3]
See also

Codex entry: Mounts


Codex entry: A Horsemaster's Notes on Mounts

Gallery
References