Mountainside Path is a path in Vimmark Mountains leading from the Retreat beneath Chateau Haine. There are two different sections of the path, one leading directly to The Ruins from the Retreat and one off into the mountains.
Involvement
Edit

Heart of the Many

Arcane Feathers
, if
Anders
is in the group

A Map of Sorts
, if
Isabela
is in the group

A Romantic's Gift
, if
Aveline
is in the group

A Warrior's Legacy
, if
Fenris
is in the group
If Hawke decides to aid Tallis: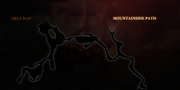 Baron Arlange
Guard (Warrior)
Guard (Archer)
Ghastling
Ghast Brute
Tal-Vashoth Officer
Tal-Vashoth Saarebas
Tal-Vashoth Leader
If Hawke decides not to further aid Tallis:
See also
Edit
Community content is available under
CC-BY-SA
unless otherwise noted.