These caverns continue on from the Ruined Temple and hold the end of the path for completing the quest The Urn of Sacred Ashes. The caverns are not as large as the Temple but hold some good items.
Places
Feeding Chambers - About midway through the caverns off to the right, a room with a load of goats and sheep in it, worth a visit as 3 Drakes will spawn allowing you to loot "drake scale" resulting in Wade at Denerim to craft you "Wades Drake Scale Armour"
Hatchery Room - A cavern with a lot of dragon eggs within located at the very top right room of the caverns, a tough fight with another couple of Drakes spawning letting you gain 2 more scales for Wade
Final cave - This is where Kolgrim is located, he will ask a favour from you to defile the sacred ashes, if you agree this will start a quest and you will not have to fight him. If you refuse his guards and he will turn hostile towards you and start attacking.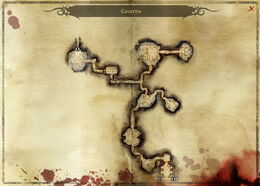 Enemies
Notable Items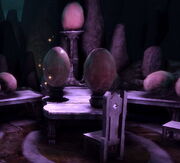 Codex Entry: The Life Drinker

Drake Scale
Drake Scale
---
Generic
A perfect drake scale.


Lifedrinker
Lifedrinker
---
Amulet
The emblem of the Imperium decorates this ancient golden torc. It is studded with garnets the color of dried blood, and feels bitter cold to the touch.

+4 spellpower

Stone Warrior Statuette
Stone Warrior Statuette
---
Gift
A small stone carving of a humanoid warrior.


Spellweaver
Spellweaver
---
Longsword
Silverite (Tier 6)
Requires: 27 strength/magic

Damage: 10.50
Critical chance: 3.00%
Armor penetration: 3.50
Strength modifier: 1.00


+5 magic
+1 or +2 mana regeneration in combat
+10% spell resistance
+3 electricity damage
Special Objects
Involved In

The Urn of Sacred Ashes

Drake Scale Armor
Exits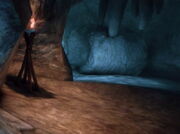 Ruined Temple

Mountain Top