The Val Royeaux Schematics Merchant is a merchant in Dragon Age: Inquisition; his shop can be found in Val Royeaux.
This merchant sells various schematics for weapons, weapon upgrade, armor and armor upgrades. The shop is located in the courtyard on the southeast side of the Summer Bazaar. Head past the Le Masque du Lion Cafe, up the stairway leading into the courtyard; the shop can be found at the end of the courtyard on the left.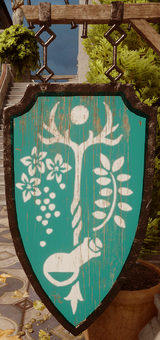 The Val Royeaux Schematics Merchant's wares are unlocked after addressing the Chantry during the main quest The Threat Remains.
With the acquisition of the Short List Inquisition perk, the following items are added as special offers. These offers are available randomly each time the Inquisitor enters the map. Only one special offer is available at a time and it is always listed first in its category:
"You've rattled the halls of power. Pleasure to serve, Inquisitor."
"Grand to see you. And everything? Thanks for that."
Community content is available under
CC-BY-SA
unless otherwise noted.