No victory lasts
If it is not remembered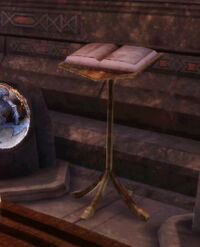 The Memories are the archives of Orzammar. Tens of thousands of years of history are recorded in them.[2] Some Shapers claim that the Memories date back to the founding of the first thaig[3], while other sources state that the first dwarven kingdom was founded so long ago that even Memories do not record it.[4]
Memories are recorded on the Wall of Memories by the Shaper of Memories who crafts lyrium runes containing the actual thoughts of the ones who made them.[2] This is a magical process that allows to record even the minutest details with precise accuracy.[1]
Memories contain detailed genealogical records of every dwarf in the city as well as deaths, marriages, promotions, demotions, inheritances, victories, defeats, Provings, and votes of the Assembly, among other things.[1] The Memories are a collection of dry facts, such as "who", "what", "when", "where" and "how", but not "why".[5] For the dwarves, genealogical records are of supreme importance, for reasons of caste and storytelling, and there is a special portion of the Shaperate dedicated to preserving the correctness of these records.
The Memories are the closest thing the dwarves have to scripture.[1] Record-keeping and custodianship of the Memories is considered a sacred duty.[6]
Dwarves trust the accuracy of their Memories. However, both the casteless and the exiled surface houses are stripped from the Memories as though they never existed.[6] In the recent times, altering the Memories for political gain has been a common occurrence[7] What is more, Memories lack or misinterpret key facts of the early dwarven history.[8] Even the ancient language used to record Memories is not fully understood, and many runes have not so much been translated as inferred.[2]
See also
Edit
Codex entry: The Shaper's Life


Codex entry: The Primeval Thaig


Codex entry: Dwarven Runecraft


Codex entry: Journal of Professor Arberg

References
Edit
↑ 1.0 1.1 1.2 1.3 Dragon Age (tabletop RPG), Player's Guide, set 2, p. 17
↑ Dragon Age (tabletop RPG), Player's Guide, set 2, p. 9
↑ Dragon Age: The World of Thedas, vol. 2, p. 145
↑ According to Shaper Valta who was sent to do fieldwork after she refused to edit out unwanted information about the current dwarven king.
↑ Titans, Primeval Thaig, Kal Repartha, events in the Cad'halash thaig are all missing from the Memories.
Community content is available under
CC-BY-SA
unless otherwise noted.