Vandalism?
Contact an
administrator
. You may report it to the
VSTF
if none of the admins are online.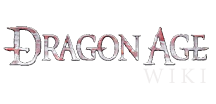 Welcome to Dragon Age Wiki! The Community Portal provides a general overview of things to do here.
The content of this wiki is written by people just like you and we would like to invite you to become part of our site. Whether it's through content editing of participating in community discussions taking place in the blogs or forums.
New editors
Be bold with your edits! You should not feel uncertain with something you wish to add or remove. The wiki is a collaborative project allows other users to review your edits and possibly tweak or improve them if needed.
How to help out
If you are interested in contributing, take a moment to read our policies and guidelines.
There are several areas in the wiki that you might like to help out. The following are the most common:
---
Projects
There are no active projects running at this time.
Additions
Wanted pages
Maintenance
Note: For regular editors, the Recent Changes feature is also quite helpful in order to track the latest changes in the wiki.
Picture uploading
Editors are also welcomed to express their opinions in on-going proposals or discussions, especially when they need to reach a consensus. Such discussions may take place in the forums, or in a talk page.
These are the currently ongoing or unresolved discussions.
Unimplemented motions
The following motions have passed but they have not been yet fully implemented in wiki pages. Editors are encouraged to implement them.
These are the currently unimplemented motions.
Community content is available under
CC-BY-SA
unless otherwise noted.