Maferath's Monuments is a side quest available from the Merchants' Guild Board in the City of Amaranthine in Dragon Age: Origins - Awakening. An anonymous Chantry scholar is offering a reward for copies of missing verses from the apocryphal canticle of Maferath, reportedly inscribed on several statues in the Wending Wood.
Walkthrough
Edit
There are eight statues in various locations in the Wending Wood. Bring the charcoal prints to Kendrick in the City of Amaranthine.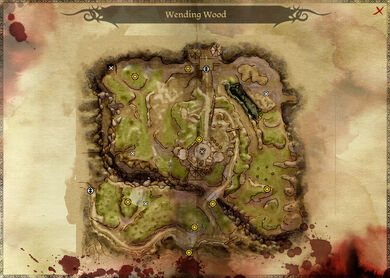 (Read note about Dalish statue under map if you think your game is bugged. It is possible you missed one of the real 8 statues)
You are rewarded with 13

and 750 XP.

Anders approves (+1)
See also
Edit
Codex entry: The Canticle of Maferath
Community content is available under
CC-BY-SA
unless otherwise noted.