Leliana is an Orlesian bard who came to the village of Lothering to become a Lay Sister of the Chantry. In Dragon Age: Origins, Leliana is a possible companion and a romance option for either male or female Warden. She can also teach the bard specialization. In the Leliana's Song DLC, she is the player-controlled protagonist. In Dragon Age: Inquisition, she serves as the Inquisition's spymaster and as an advisor to the Inquisitor.
Background
[
]
Leliana was born in Orlais, and though she is culturally Orlesian, her mother was Fereldan and so she considers herself as such. Leliana's mother, Oisine, was a servant of Lady Cecilie Vasseur, an Orlesian noble. One of Leliana's earliest memories is the scent of her mother's linen dress as they held hands on the terrace of an Orlesian villa with a view of the Waking Sea and gardens of sweet orange and lavender. Though Leliana is uncertain if this powerful memory is real or not, she cherishes the image of her Fereldan mother.[1]
Following the Fereldan victory in the Rebellion, Oisine followed Lady Cecilie back to Orlais. When Leliana's mother died, shortly after her fourth birthday,[1] she was raised by Cecilie (though she did not likely legally adopt her),[2] and in her care Leliana learned much about the royal court and Orlesian culture.
Oisine's death cast a pall over Leliana's normally sunny disposition, however, and in an effort to cheer the girl her new guardian gave her whatever she asked for; Leliana only ever wanted books. As a result, she quickly developed an obsessive interest in Orlesian and Fereldan stories, ballads and songs, as well as any tales she could learn from Cecilie's elven servants. Tutors were soon called for by Lady Cecilie to foster Leliana's passion. Leliana often practiced her dancing on the stone terrace of Cecilie's villa on the Waking Sea, as well. [3]
At sixteen, Leliana made her first trip to Val Royeaux, to attend a soiree with Lady Cecilie. There she met and was impressed by Marjolaine, a wealthy widow and patroness of the arts. Marjolaine began calling upon the aging Lady Cecilie shortly after the soiree, who often left Leliana to entertain the dazzling visitor.[3]
Leliana was fascinated by Marjolaine's worldliness and daring, and the two became close friends. On a hunting trip, Marjolaine gave Leliana her first bow. In teaching her how to use it during that trip, Leliana wounded (but did not kill) a hart the hunters were tracking. Too upset to end its suffering, Leliana watched in amazement as Marjolaine efficiently killed the animal.
That same summer, Leliana visited Marjolaine at her Val Royeaux estate, and the widow began to teach her way of the bard: manipulation, subterfuge and combat. Always her teaching was subtle and disguised, easily assumed to be merely a lady's idle amusements.[3]
Ultimately, Leliana ended up in the village of Lothering. To atone for her sins and to hide from Marjolaine, who survived the original encounter, Leliana joined the chantry there as a lay sister, becoming intensely religious.
There, her confession of a vision from the Maker, and discovery of an impossible white rose on a dead bush in Lothering, both made her an outcast and spurred Leliana's passion to aid the Warden in the Fifth Blight. No one could shake her determination to stop this evil and bring hope to the world.[4]
Involvement
[
]
Leliana's Song

[

]
Dragon Age: Origins

[

]
Dragon Age: Origins - Awakening

[

]
Dragon Age II

[

]
Dragon Age: Asunder

[

]
Dragon Age: The Masked Empire

[

]
Dragon Age: Inquisition

[

]
Dragon Age: Magekiller

[

]
Trespasser

[

]
Quests
[
]
Dragon Age: Origins

[

]
The Urn of Sacred Ashes (conditional)
Dragon Age II

[

]
Dragon Age: Inquisition

[

]
Romance
[
]
See Leliana/Romance for a detailed walkthrough on romancing her.
See Romance: Love Triangles for information regarding simultaneous romances involving both Leliana and another companion.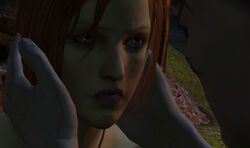 The Warden's first opportunity to kiss her occurs when her approval reaches "Adore" (71 or higher) and the Warden is not already in a romance with another party member. She starts a conversation in camp with the opening sentence "I enjoy the nights at camp. The night always seems more peaceful, to me. Safer." Nevertheless, she isn't interested in a fling and will only bed the Warden once she's fallen in love with them. She will not fall in love with the Warden until her quest has been completed and her approval rating has reached 91 or higher. To increase her approval, talk to her a lot, listen to what she tells you, be supportive, avoid criticizing her when she talks about the Maker, give her gifts that are personally meaningful to her, do good deeds while she is in the party, and avoid evil acts (or at least avoid having Leliana in the party when performing them).
Although it isn't clearly a romantic advance on the Warden's part, asking "She was special to you, wasn't she?" starts a romance when talking about what happened with Marjolaine during Leliana's personal quest. This happens regardless of what dialogue choices you make after that, even if you don't ask about her current romantic interests. Take care not to select this option if you only want to be friends.
Dragon Age: Inquisition

[

]
Trespasser

[

]
Gifts
[
]
Leliana prefers gifts with "Andraste" in their name, as well as other symbols of the Chantry. The white flowers called Andraste's Grace work particularly well. She loves shoes, too. Leliana can also be given a pet nug from the Idle Dwarf in Dust Town. It will stay with her throughout the game.
Statistics
[
]
Dragon Age: Origins

[

]
Initial attributes
[
]
Relative attribute weightings on auto-level:
| | | | | | |
| --- | --- | --- | --- | --- | --- |
| Strength | Dexterity | Willpower | Magic | Cunning | Constitution |
| 0.6 | 1.2 | 0.4 | 0 | 1.2 | 0.6 |
Initial specialization
[
]
Initial skills
[
]
Improved Stealing   Expert Stealing (level 8)   Master Stealing (level 12)
Improved Combat Training   Expert Combat Training (level 10)
Initial talents
[
]
Initial equipment
[
]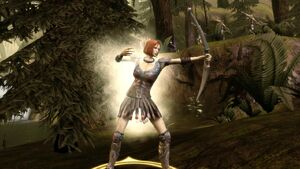 Restricted gear
[
]
Plot skills
[
]
As you befriend Leliana and gain her approval, she will gain the following additional skills:
| Name | Benefit | Requirement |
| --- | --- | --- |
| Inspired: Minor Cunning | +1 to cunning | 25% approval |
| Inspired: Moderate Cunning | +2 to cunning | 50% approval |
| Inspired: Major Cunning | +4 to cunning | 75% approval |
| Inspired: Massive Cunning | +6 to cunning | 90% approval |
Leliana's Song

[

]
Initial attributes
[
]
Leliana starts at level 10:
(1 available point)
Initial specialization
[
]
Initial skills
[
]
(no available points)

Initial talents
[
]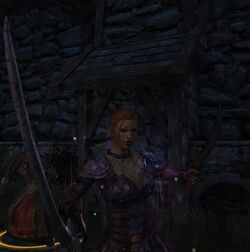 (2 available points)
Initial equipment
[
]
Quotes
[
]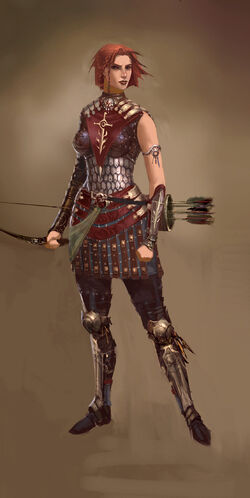 See also: Leliana/Dialogue and War table/Dialogue.
Dragon Age: Origins

[

]
(Sacred Ashes trailer) "The righteous stand before the darkness, and the Maker shall guide their hand."
"I came to Ferelden and the Chantry because I was being hunted, in Orlais. I walked where the Maker led me and... He has rewarded me for my faith. I found you."
"There were many lovely young initiates in the Lothering cloister—all of them chaste and virtuous. Ah, it added to their mystique."
"I love stories far too much to keep them to myself. Everyone should benefit from them, I think."
(after fighting herself during "The Gauntlet") "Did you see the cruelty on my...on her face? Is that really what I am?"
(When confronted with floor puzzle) "Oh, this looks fun! I bet we'll have to work together and join hands and sing a happy song to get across!"
Leliana's Song

[

]
(About 'The Game') "The only way out of this game is to kill or be killed."
(Prologue) "Do you want to know a secret? This tale of foolish people long ago... I know what happened, and what is true... but I don't know how it should end. Let me tell it one more time, and perhaps together, we will see."
The Masked Empire

[

]
Dragon Age: Inquisition

[

]
"Though darkness closes, I am shielded by flame. Andraste, guide me. Maker, take me to your side!"[9]
"The Chantry dictated where it should have inspired. It spoke of judgement instead of acceptance. It should encourage the good in everyone, rather than rebuke us for our sins. No one should be turned away from our doors. No one is without worth. Whoever you are, whatever your mistakes, you are loved. Unconditionally. 'In your heart shall burn an unquenchable flame.'"
"The Chantry has committed many injustices. If we're going to change it, why not change the whole thing?"
"I've known mages. Some of them were better people than me. And yet I'm free and they're not. It's not right."
Dialogue
[
]
Interrogator: "You will break."
Leliana: "I will die first. Or you will."
Codex entries
[
]
Note texts
[
]
Trivia
[
]

Leliana was written by Sheryl Chee in Dragon Age: Origins, as well as in Dragon Age: Inquisition.[13][14]
In her BioWare's character file, Leliana's appearance is described as: "Red hair, pale, slender."[15]
Leliana is one of the three companions who appear in the Sacred Ashes trailer. Her CGI model in the trailer is based on adult model Alexandra "Alleykatze" Stein.[17]
When imagining a single-note scent for Leliana, her writer Sheryl Chee likened her to "sugared roses, incense and candy floss."[18] Chee returned to write her in Dragon Age: Inquisition[19]
If Leliana is given the Cute Nug, she will name it Schmooples. (To see this while in the party camp, hold down tab on the

pc

version or left trigger on the console versions to note all names in the vicinity.)
If Leliana's approval is high enough, it is possible that she will hum a little melody when the player takes control of her.
If Leliana is hardened, she will be clad in armor during the coronation; however, if she remains unhardened, she will simply wear a dress.
Statistically, Leliana is the most commonly-picked romance option in Origins.[20]
Leliana is the companion appearing in the largest number of the series' media.
If you talk to Bethany Hawke in the chantry in Dragon Age II, she will say, "I miss the Lothering chantry. Sister Leliana told the best stories." In Dragon Age: Inquisition, Leliana comments on how Bethany enjoyed her stories.
If you talk to Aveline in the chantry in Dragon Age II, she will comment about feeling uncomfortable around chantry sisters due to a "red-haired trickster in Lothering."
Leliana's most prominent alias by far is "Sister Nightingale". [21] She is also referred to as "Red" by Iron Bull, and "Shadows of Birds" by Sera. Helsdim Rolfsen may refer to her as a "Winged Trumpeter of Wisdom against the Darkness."
As a young girl, Leliana was an avid reader, most notably of stories of "lost princes and lady knights". When her supply of tales in the library was exhausted, she turned to other sources for more. [1]
Bugs
[
]
Gallery
[
]
References
[
]
↑ 1.0 1.1 1.2 1.3 Dragon Age: The World of Thedas, vol. 2, p. 84
↑ 3.0 3.1 3.2 Dragon Age: The World of Thedas, vol. 2, p. 85
↑ 4.0 4.1 4.2 4.3 Dragon Age: The World of Thedas, vol. 2, p. 86
↑ Dragon Age: The World of Thedas, vol. 2, p. 222
↑ Dragon Age: The World of Thedas, vol. 2, p. 268
↑ David Gaider (January 7, 2010). "Writers of Dragon Age" . The BioWare Forum.
↑ Dragon Age: Origins Resource File: leliana.chr
↑ Dragon Age: The Masked Empire, p. 111
↑ Sheryl Chee (Sep 21, 2013). https://twitter.com/SherylChee/status/381268481481519104 . Twitter.
↑ David Gaider. "On character popularity" . Tumblr.
↑ Mentioned in The Exiled Prince DLC and used in Heroes of Dragon Age
↑ Sheryl Chee (May 15, 2017). https://twitter.com/vhenadarling/status/863902759304798209 . Twitter.